By: Samuele Petruccelli, Taylor Brokesh
Editor's note: Bostonians cast their vote today for which two of the eight Mayoral candidates will face off in the general election Nov. 2. The ballots also serve to narrow down the race for At-Large City Councilor from 17 to eight candidates and the race for Office of District City Councilor to two candidates for District 4, District, 6 District 7 and District 9. This article contains information about voter turnout, polling, candidates' schedules, campaigns and the election results. This page will be updated throughout the night with more information as it becomes available.
Results as of 2:37 a.m.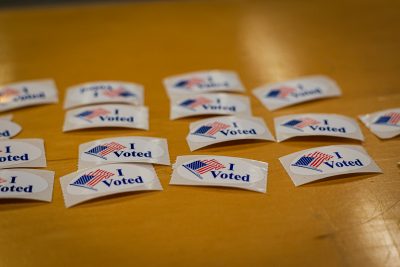 Based on the latest unofficial election results released by the City, candidates Michelle Wu and Annissa Essaibi George are leading the 2021 Preliminary Mayoral race, with 40.93% of the vote and 21.52% of the vote, respectively. Michelle Wu became a declared winner by the Associated Press and news outlets such as WBUR at 20% of precincts reporting. These projections — combined with the candidates' "victory" speeches — indicate Wu and Essaibi George will go on to compete for the Office of the Mayor in the Nov. 2 Municipal Election. Despite her earlier concession and statement of her apparent loss, new results show that Campbell seems to be closing the gap for third with each update, though Essaibi George remains solidly ahead. 
Although results only came into the Elections Department from 51 out of the 255 precincts or 20.00% of precincts as of 2:30 a.m., Kim Janey announced her concession in a statement and John Barros also hinted at his concession via Twitter earlier in the night. Andrea Campbell addressed her seeming loss to a crowd at her election watch party, saying, "It's not the results we expected, but we have something to be extremely proud of." 
The unofficial results show Michael Flaherty in the lead for the Preliminary City Councillor At-Large Race with 17.13%. In second is Julia Mejia at 14.05%, the third is Ruthzee Louijeune at 11.77% and the fourth is Erin Murphy with 7.83%. 
According to the Boston Election Department, 83,602 Bostonians turned out to vote in this election, out of a total of 386,492 active voters. This historic preliminary will likely ensure that Boston elects its first female Mayor and first Mayor of color. 
Updates
UPDATE [ 2:06 a.m.]: With 15.29% of the vote in, the City's election department data shows Wu's lead increased to 39.73%. Essaibi George remains in second, this time with 23.16%, but Campbell — who already conceded — trails right after at 18.43%.
UPDATE [12:55 a.m.]: New postings from the City's election department show Wu holding her lead with 36.09% and Essaibi George in second with 30.83% With 8.24% of precincts reporting, all other candidates are tallying below 20%.
UPDATE [12:56 a.m.]: John Barros tweets out his thanks to his team, supporters and volunteers, writing "This campaign was never about a job … This work will continue with all of you."
UPDATE [12:10 p.m.]: Four hours after the polls closed, and with candidates hinting either victory or concession, the only tally posted by the City's election department at City Hall lists just 558 votes, according to an election worker present on site. On the City's website, there remains only a voter registration count under the Preliminary Municipal Election dropdown.
UPDATE [12:05 a.m.]: Mayor Kim Janey released a statement congratulating Michelle Wu and Annissa Essaibi George on their "victories," while acknowledging that the City is waiting on some results. "This was a spirited and historic race, and I wish them both luck in the final election. While tonight hasn't ended how we hoped, we have so much to be proud of," the statement added.
UPDATE [11:35 p.m.]: Votes received by mail and dropped off at ballot boxes are currently being separated by street and precinct, cross-referenced against registered voters and double votes  by the staff, then fed into an electronic machine for counting, according to Alexis Tkachuk, member of the Boston Election Commission.
UPDATE [11:33 p.m.]: Tania Anderson placed first in the District 7 Preliminary City Council race, the spot previously held by Kim Janey, according to a statement from Anderson's campaign.
UPDATE [11:20 p.m.]: Andrea Campbell addressed crowds hinting at her concession from the race: "It's not the results we expected, but we have something to be extremely proud of."
UPDATE [10:46 p.m.]: All ballots from today's in-person machine voting have been brought into the Boston Elections Department office at City Hall, according to an election worker.
UPDATE [10:42 p.m.]: The Office of the Secretary of the Commonwealth of Massachusetts in the Elections Division suggested in a tweet that the delay in official results may be due to the last-minute return of ballots to ballot drop boxes.
UPDATE [10:14 p.m.]: Michelle Wu announces "overjoyed" that she is "confident we have made the top 2" and are moving on to the Nov. 2 election. Reporters and campaign staff await tallies from city officials. We are waiting on Boston.gov for the official results.
As of 6 p.m., over 83,602 Boston voters turned up at the polls this Tuesday, out of over 400,000 registered voters, according to the Boston Election Department. 
Polls across the city's 255 precincts closed at 8 p.m. and are staffed by more than 1,800 workers. The City's election department reaffirmed late Tuesday evening that residents still waiting in line after 8 p.m. would be permitted to vote.
The first tally from the 6th precinct of Ward 3 posts Michelle Wu with 233, Campbell with 127, Essaibi George with 113 votes and Janey with 54, out of 550 total votes counted.
Candidate Activities
All the candidates spent their day crisscrossing key neighborhoods across Boston, like Roxbury, Chinatown and South Boston, sometimes overlapping.
Acting Mayor Janey is holding her watch party at the SoWa Power Station, just north of Boston University's Medical Campus. 
Mayoral candidate and Councilor-at-Large Annissa Essaibi George is watching the results in a private election night party at the waterfront Italian restaurant in Dorchester, Venezia.
Predictions
In two separate polls, Wu held a strong lead at or above 30%. Janey, Essaibi George and Campbell all came within just a few points of each other in the poll. 
A Suffolk University/Boston Globe placed Wu at the top, receiving 31% of the vote. For second place, Janey and Essaibi George remain neck and neck, garnering 20% and 19%, respectively.
Recapping the Campaigns
Adam Gaffin, the editor of Universal Hub, a Boston community news and information site, characterized the Mayoral race so far in an interview with The Daily Free Press.
"There were a couple of things that were amazing," Gaffin said. "It wasn't like a loud, outrageous campaign, the candidates basically stated their pieces, it was kind of a calm, rational form of debate."
Although Wu appears ahead of the pack in recent polls, Gaffin said he has "no clue" who could take the other spot — the latest data shows a very narrow margin between Campbell, Essaibi George and Janey. 
"Campbell and Janey are going to have to really, really hope that turnout is high in places like Roxbury, parts of Dorchester and Mattapan," Gaffin said. 
Gaffin listed the pandemic, housing, gentrification and education — particularly with the change in the admissions process to Boston's three exam schools enacted over the summer—  transportation and crime as priority issues for Bostonians to consider when voting today.
"It's going to be an important election because it's going to be the first time we probably will have a woman Mayor, but definitely a Mayor of color," Gaffin said. "It's a historic election, no matter what happens."