If you just watched football for the first time this week, I could probably convince you that Chandler Jones is the best player to walk the planet, Aaron Rodgers is the worst quarterback in the league and the Saints will steamroll their way to a 17-0 season.
While these first-week anomalies are a dime a dozen and should not be overstated, there are some significant implications for fantasy outlooks (in PPR leagues, unless otherwise noted). Here are a few of the biggest for next week: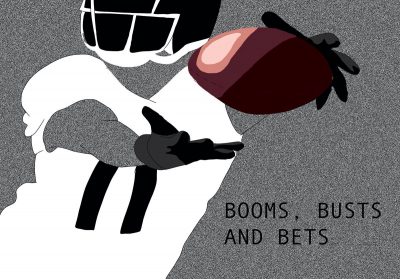 Boom: Najee Harris
The first-round pick out of Alabama did not exactly explode in his Week 1 debut. Harris averaged under three yards per carry (YPC), putting up a measly 45 yards on 16 attempts. However, he also played in 100% of the Steelers' offensive snaps, showing he can be the definition of a three-down back. 
He has a favorable Week 2 matchup in the Raiders, a bottom-10 run defense in 2020. In his first home game as a Pittsburgh Steeler, look for Harris to bounce back and finish as a top-10 fantasy back. 
Bust: James Robinson   
Robinson's fantasy stock graph is a never-ending roller coaster. After a year in which he went from undrafted rookie to RB7 in fantasy, his stock looked amazing. Trevor Lawrence's expected arrival only helped. Then the drafting of Travis Etienne in the first round tanked his stock to basically zero, but Etienne's unfortunate injury put him right back in the conversation. 
After Week 1, he's back on the decline, and the real question is: why does Urban Meyer hate him? Despite facing 2020's worst run defense — the Texans —  Robinson carried the ball a total of five times, averaging an impressive five YPC. Now he faces a Broncos defense that held Saquon Barkley to 2.6 YPC. 
While J-Rob holds a special place in my heart for winning me my league last year, until Meyer accepts that he is a better running back than Carlos Hyde, it's best to leave Robinson out.  
Boom: Corey Davis
Before Week 1, Davis was the first "Boom" I had on my list — and wow, did he earn it. Davis exploded for over 26 points, with two touchdowns and nearly 100 yards. 
In Week 2, he faces his first real WR1 test, with a matchup against one of the best cornerbacks in the NFL, J.C. Jackson. There are two reasons to believe Davis will still be fantasy-reliable: He's Zach Wilson's favorite — and arguably, only — target by far, and the Jets will likely be extra aggressive on offense, as they have not beaten the Patriots since 2015. 
Bust: Panthers' defense/special teams
This one is for the casual fantasy players who will inevitably scroll through their league's available players, see the Panthers' defense with its impressive six-sack debut, and decide to try them out for Week 2. Please don't. 
The Saints' offensive line made Za'Darius Smith and the Packers' D-line a complete non-factor. Jameis Winston picked apart a Jaire Alexander and Adrian Amos-led secondary for five touchdown passes in a 38-3 rout. 
The Panthers' defense has some exciting young talent this year, and a handful of their matchups point to top-3 fantasy potential. This week does not. Add them to your roster. Don't start them.
Boom: Diontae Johnson
Despite missing some snaps due to an injury scare, Johnson led the Steelers' wide receivers in targets, receptions and fantasy points and hauled in the lone touchdown pass of the game. 
Johnson was a target hog last year, finishing as the sixth most-targeted wide receiver in the league, and no indication has changed. For the foreseeable future, he's the safest bet in the Steelers' receiving core. 
 Bust: Texans' backfield
The Texans' backfield is a mess. David Johnson makes the most money, Phillip Lindsay has the most talent and Mark Ingram was given the most carries. Facing a formidable Cleveland rush defense in Week 2, avoid them all like the plague. 
Best value bets
(Using FOX Sports odds at the time of writing)
Cincinnati Bengals: Win outright (Odds: +125)
Coming off an impressive overtime win against the Vikings, the Bengals have huge value as the underdogs against a Chicago Bears team that looked lifeless against the Rams.
Houston Texans: Cover spread (Spread: +11.5)
The Texans controlled every aspect of the game in an impressive win over the Jaguars in Week 1. In Week 2, the Browns are favored to beat them by 12-plus points — a win margin the Browns only achieved twice in their 11 wins in 2020. Look for the Browns to win, but for the Texans to keep it competitive. Note: betting over on the total over/under (48) is also a great choice. 
Los Angeles Rams: Win/cover spread (Spread: -4)
The Matthew Stafford hype was real. Aaron Donald is Aaron Donald. The Rams blew out the Bears by 20 points, and there's no reason to believe the Indianapolis Colts will fare much better. 
Minnesota Vikings @ Arizona Cardinals: Over 49.5 points
The Cardinals and Vikings have two of the most talent-heavy offenses in the NFL. Between the Cardinals' Kyler Murray and DeAndre Hopkins, and the Vikings' Dalvin Cook, Justin Jefferson and Adam Thielen, this game is poised to be an offensive slugfest that should easily surpass the 50 point threshold. 
New York Giants @ Washington Football Team: Under 41 points
Two teams that combined for 29 points Week 1. Two teams facing even tougher defenses Week 2. Two teams with massive question marks at quarterbacks. Two teams that are not scoring 42-plus points.