Boston University Graduate Medical Sciences at the School of Medicine has a diverse set of more than 30 programs, with differing class sizes and programs. However, since the COVID-19 pandemic, GMS decided to make an effort to foster a more cohesive community.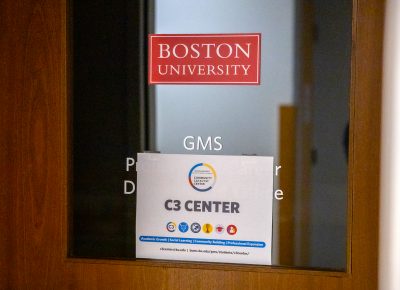 GMS launched the Community Catalyst Center the week of Aug. 31 — otherwise known as C3 — to foster a broader community across the different programs at GMS, and, in doing so, inspire "holistic success," according to the online announcement of the program.
Theresa Davies, the assistant dean of Master's Programs at BUSM in the division of GMS, was involved in starting C3 and said the center was created to encourage a sense of community among students spread across all programs at the school.
"Some programs, they're small, [so] you might be in a research lab with a couple other students or you'll be in a Master's program that has eight students," Davies said. "It's really nice to do something other than your program, like be with other people and get outside of that space for a while."
C3 also hosted various welcome events to kick off the year, including two walking tours of historic Boston.
Táchira Pichardo, a fourth-year doctoral candidate at the BUSM and a student mentor for C3, added that the program also features affinity groups that aim to help students with underrepresented backgrounds feel more comfortable within their programs.
Students can join one or multiple of the five affinity groups that C3 offers — gSOC for students of color, gFIRST for first-generation students, gMAV for military-affiliated and veteran students, gPLUS for LGBTQIA+ students and gGLOBAL for international students.
"The purpose of these groups really … is to actively have students create a community and foster that sense of belonging with each other that they might find hard to come across organically, especially as students sometimes don't really feel like they have a lot of time," Pichardo said. "These groups can sort of form that seed or that nucleus for that social connection."
These affinity groups will be more community-focused, as opposed to many of the existing student groups that are more focused on professional development, Davies said.
Gregory Cello, a graduate student at BUSM and a student mentor for gMAV said that before C3, it was hard to build a community with other veterans and military-affiliated students.
"There was nothing presented to me to meet and interact with any other veterans," Cello said. "I definitely felt a little isolated in that sense."
Cello said he hopes the C3 will combat the sense of isolation on campus since the COVID-19 shutdown.
"I'm really hopeful that the student groups are going to build community," Davies said. "I really think a lot of students need each other and certainly just being together really matters."
Cello, who served for 8 years in the U.S. Army, was a Captain deployed to Afghanistan with the 82nd Airborne Division as a paratrooper and said he hopes to share his story to help students with similar backgrounds feel more comfortable on campus.
"I hope to really share my story so fellow veterans can get a feel for who is here, who I am, how I can help," said Cello. "Having my presence there to engage in any conversations to hopefully make it feel comfortable for them, for other veterans, to partake, join, feel a part of the community."
Davies said the affinity groups will begin holding community chats in the last week of September. Upperclassmen will lead the affinity groups and act as mentors to newer students.
Elissa Everton, a fifth-year doctoral student and first-generation student said for first-gen students, affinity groups can help them learn about what to expect from graduate school and how to build a successful career because many first-generation students don't have the same resources that other students may get from their parents.
"It's a lot of things that you don't realize you're missing until it happens," Everton said. "Being around people that have gone through it, a lot of upperclassmen that are about to take that next step, we are more aware of the things that we're missing and can advise people that are just starting out in a much better capacity."
Davies said for students to succeed, it is important for them to feel supported and like they belong.
"I'm a firm believer that you only really are successful professionally if you're happy and successful as an individual and your personal life and your well-being," Davies said. "I think it all became very clear with COVID again how important it is to have balance and have relationships."