Hot pot may be one of the best foods ever invented, but before a few weeks ago, I'd never tried it. 
With huge bubbling pots of broth, piles of meat and bowls of noodles, it's surprising that it took going about 1,000 miles away from home to get to a hot pot restaurant. 
It's shameful, honestly. 
But, thanks to my new roommates, the situation's been rectified.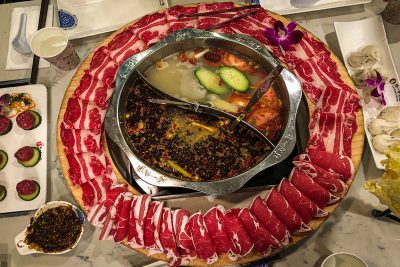 After hopping into a random suite in South Campus with four strangers during housing selection, I had no idea what to expect. I'd heard the horror stories and things to avoid, yet I still took the risk. The allure of a private bathroom and a shared living room was too great. 
Thankfully — while we may still be in that honeymoon phase after only three weeks living together — it's safe to say that I've gotten extremely lucky with my gamble. 
No horror dorm horror stories have happened so far, and my roommates are exactly the push I needed to get out of my cocoon of blankets and experience new things.
I tend to be one of those people who stay inside if there's no reason to go outside and socialize. It seems like a hassle most days to leave my dorm. I feel great staying in all day to read and watch videos. Quarantine was scarily close to my ideal lazy days. 
But college is supposed to be different — or so I've been told. You're supposed to try new things, socialize and network. 
One of the new experiences I had been dying to try is hot pot. I love food — it's one of the only reasons I'll happily leave my room. As part of my dream to eat hot pot, I'd search for it and watch videos of people eating while, in the meantime, I'd get hungry. 
However, there was no reason to go out, and I didn't feel like pushing myself.
Last year it was because of the pandemic and the fact that I'm one of the most money-conscious people ever. So why go out when I could just go to the dining hall I'm already paying so much for? 
My roommates have helped me answer that question. 
It's worth it.
Not only is the food amazing, but it's fun to go out with people and try something new — and leaving my little isolated bubble can be exciting.
So the night before school began, we braced ourselves against the rain after our Community Conversation with our Resident Assistant and took the train to Q Restaurant. We all ordered individual bowls of noodles and shared the trays of meats to dip in the hot and sour and beef bone broths. 
It seemed like a quintessential college night despite the harsh rain. 
I felt like I was finally having the college and city experience. I was meeting extremely cool people, and it was comfortable despite only meeting them a few days before. There was no better way to start the new school year and finally say hello to my new home and roommates.
The hot pot experience was only the tip of the iceberg of newness and first-time experiences. My roommates insisted I try boba — which I think tasted like intrusive gummy bears in my smoothie. 
Also, I finally went on the T and learned how to navigate it after going with one of my roommates to three Targets and an ACE Hardware to hunt for fans.
New adventures — mostly food-related — are coming soon, especially since I'm realizing I haven't done a lot of anything, which has also surprised my roommates. Next on the list includes Korean Barbeque, Chinese Barbeque and Chipotle.