When junior midfielder Quinn Matulis scored to give the Boston University men's soccer team a 1-0 lead in minute 86 of the Terriers' match against the previously undefeated United States Naval Academy, the stands at Nickerson Field were nearly empty and sheets of rain were pouring down onto the pitch. None of it made BU's euphoria any less palpable.
After a lightning delay of approximately an hour and thirty minutes sent most fans home, Matulis' strike sealed the Terriers' (1-4-1, 1-0 Patriot League) dramatic 1-0 victory over the Midshipmen (5-1-1, 0-1 PL) in BU's conference opener on Sept. 18.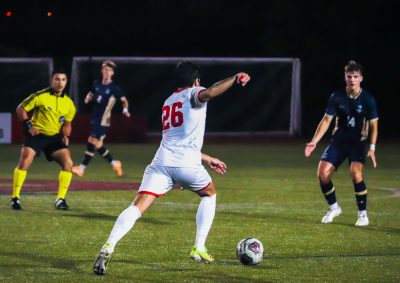 BU captured its first win of the season, while Navy conceded its first loss of the 2021 campaign. 
"For us to be able to come out and battle through a weather delay, and to find ourselves on the end for a 1-0 win, a clean sheet, a collective team effort, for the guys, it's a great feeling," head coach Kevin Nylen said postgame. "Three points against a team who's always at the top of the league, it's just week one so it's a start but it's a really good starting point for us."
BU fended off chances from an aggressive Navy attack early on and throughout the first half, but the Terriers fought back to gain momentum after halftime. BU nearly found a goal in minute 55 of play when a Matulis strike deflected over the crossbar.
The Terriers continued to put pressure on the Midshipmen when the game was halted in the 67th minute due to lightning in the area.
When play resumed, Navy forced a series of saves from junior goalkeeper Francesco Montali before Matulis put the Terriers ahead with less than five minutes left in the contest.
"The thunder delay was something I've never gone through personally, but when we got back out here we knew this game was going to be decided by who had the better mentality," Matulis said. "We knew we only needed one chance."
Montali made a season-high six saves in a clean sheet –– the first of his career at BU.
BU's strong second-half performance marked the second consecutive game in which the Terriers have outscored their opponent in the second half. 
"We've found ourselves starting slowly in recent games and building into it," Nylen said. "It takes the guys a little bit to find the rhythm."
The win marks BU's first at Nickerson Field in nearly two years –– the Terriers' last home victory came when the team edged Navy in October 2019. 
BU continues Patriot League play on Sept. 25, when the team faces off against Lafayette University (3-3-1, 0-0-1 PL) in Easton, Pennsylvania, at 12 p.m.