With the triumphant return of in-person attendance for Boston University athletic events, fans are welcome back in the stands this semester for the first time since March of last year. From Agganis Arena to New Balance Field, varsity athletes work hard on and off the field so fans — both family and fellow students — can continue to enjoy the full experience and bring roars of cheers for the 2021-22 academic year.
For many students, this year is their first opportunity to attend sporting events at BU. For others, it's a return to normalcy after a long and frustrating wait on the sidelines, but both plan on taking advantage of the opportunity while it's there.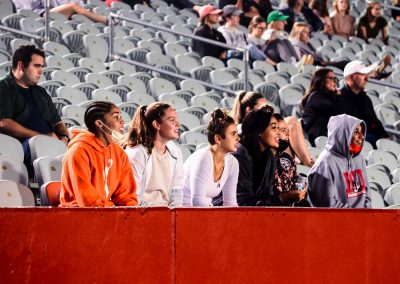 "There's nothing like the energy of a stadium or an arena full of fans," second-year College of Communication grad student Chris Kattak said. "I don't think people realized how much of an impact a crowd could have on a game until the stadiums were empty. The players really feed off the energy of the crowd."
Luckily, the awkward silence of a crowdless game has ended, and fans are pushing players to give their best effort. 
Students aren't the only ones enjoying a game or two this year. Friends and family who've supported BU athletes throughout their lives get to do so once again. Ashley Buck, a junior defender on the women's soccer team, spoke on the difference having them back in the stands can make.
"Having [family] in the crowds makes a difference too, knowing that you're playing in front of people that gave up a lot of stuff for you to be here," Buck said, "or just to have the energy of the crowd, your friends, some other teams, as well as regular BU students, helps us through close matches and makes it a little bit more enjoyable for all of us."
The teams themselves are getting in on the fun too. The men's and women's soccer teams are making the extra effort to attend games and cheer each other on this season. 
"I think we all kind of missed going to games, or sporting events in general, with COVID," Buck said. "[The men's soccer team] started it by having a lot of energy, and they actually really kept us in one of our first few games … having them and knowing they're here and having them call out our names and stuff was super fun, and then vice versa, going into the stands and cheering on our friends."
At BU, hockey games are one of BU's biggest sports attractions. The BU Dog Pound, a student organization that encourages fan engagement at men's hockey games, has been eagerly awaiting the return to the arena after a year of remote programming.
"Last year really underscored the importance of social media to engage with students and get them excited about BU hockey," Dog Pound president and CAS senior Joe Delorto wrote in an email to The Daily Free Press. "Going virtual presented a lot of challenges, especially without the built-in draw of the games, but we worked with our student leaders and the Athletics department to try to maximize our social media presence and the power of our online outreach."
While they worked tirelessly to get people together virtually last season, this year, they're excited for an electric crowd at the first home game of the season. 
"After the last 18 months, people are honestly just looking for things to do and fun ways to get out of their dorm," Delorto wrote. "For the first time ever really, half of the campus has never had the chance to go to a hockey game, so the excitement is definitely there."
Delorto and the Dog Pound are actively looking to get students involved in their group and are spreading the word to get as many students to the games as possible. The men's ice hockey season begins Oct. 2 at Walter Brown Arena against the College of the Holy Cross. while the team's first game at Agganis Arena comes a week later on Oct. 9 against the University of Connecticut. 
 "Dog Pound is all about having a great time at the games," Delorto wrote, " and we just want to get as many new people into the stands as possible to see what a great experience it is so they can bring their friends and we have a whole new group of people excited about BU hockey."