After a second week of NFL action, it's still hard to determine the frauds from the legit contenders. Some things feel right — the Jets, Jaguars and Lions are all sitting pretty in last place. Some things feel wrong — the Raiders and Panthers are undefeated, beating teams like the Ravens and Saints. 
The fantasy world also has anomalies and question marks. Heading into Week 3, here's who you can trust and bust (in PPR leagues, unless otherwise noted).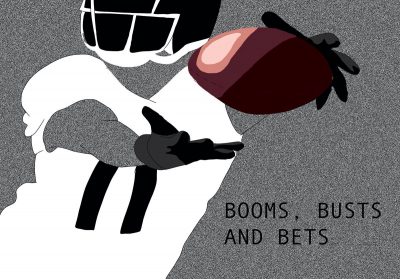 Disclaimer: Picks are merely the opinion of the author. Gambling involves financial risk. The author is not responsible for losses incurred from gambling.
Boom: Tony Pollard
With a healthy Dak Prescott revitalizing their passing attack, the Cowboys have a chance at producing a top fantasy back. Pollard is averaging eight yards per touch this year (compared to Ezekiel Elliott's 4.4). While Elliott will continue to be their three-down back, Pollard's explosiveness and receiving ability should make him worth a start against a weaker Eagles defense. 
Bust: Bears' defense/special teams
Last week, I made the unfortunate error of declaring the Panthers' defense a one-week wonder. I was about as wrong as one can be, but despite that, I'm doing the same thing this week for the Bears. Much of the Bears' Week 2 dominance came thanks to Joe Burrow throwing back-to-back-to-back interceptions. The Browns are light-years ahead of the Bengals offensively and will rely much more on their unparalleled rushing attack, limiting the Bears' likelihood of racking up points.  
Boom: Marvin Jones Jr.
Trevor Lawrence has had a rough welcome to the NFL, with two losses and five interceptions so far. Unfortunately, a win won't be easier in Week 3 as he faces a strong Cardinals team. While this bodes poorly for the Jaguars, it should help Jones' fantasy value, as Jacksonville will likely be playing from behind and sticking to the air attack for the entirety of the game. The veteran Jones has so far emerged as the leader of the Jaguars receiving core, leading in receptions, yards and touchdowns.
Bust: The Miami Dolphins
As long as Tua Tagovailoa is out, the Dolphins should not be expected to have anyone of fantasy value. With a wide receiver trio like Will Fuller, DeVante Parker and Jaylen Waddle, it would already have been difficult for any individual player to have fantasy prominence, and Jacoby Brissett being in at quarterback only makes that harder. Star tight end Mike Gesicki has been a complete non-factor this year. Their defense still has elite talent but will now face Derek Carr and the Raiders, who have picked apart strong defenses in back-to-back weeks. Jason Sanders could hold fantasy value, but he is coming off a week with zero points. 
Boom: Daniel Jones
In my primary fantasy league, I have Prescott and Justin Herbert as my quarterbacks. I'm still trying to sign Jones because that's how much I believe in him and this matchup. Jones is QB5 through two weeks and is going up against the team that has allowed the most fantasy points to quarterbacks this year, the Falcons. If there's any week Danny Dimes could surge to QB1, this is the game.  
Bust: The NFL
This is just a rant. In the first two weeks of NFL action, it's become extremely clear just how awful the stringent new taunting rules are — 15-yard penalties for spinning a ball, celebrating a catch and flexing after a defensive stop. The rules are hated by nearly every fan and player and will make the NFL feel unwatchable if they continue. The No Fun League is the most obvious bust of the week. 
Best value bets
(Using FOX Sports odds)
Green Bay Packers: Win outright (Odds: +160)
I'd completely understand playing it safe and just betting on the Packers to cover the spread (+3.5) against the 49ers in this game. Either way, betting in the Packers' favor is a must with these odds, and it feels like the kind of bet you should rush to place before the site notices they made a typo.
Denver Broncos: Win/cover spread (Spread: -10.5)
In Week 2, Zach Wilson was absolutely terrorized by Bill Belichick's defensive mind known for feasting on rookie quarterbacks. In Week 3, he'll be terrorized by the best secondary in the league as the Broncos steamroll their way to their first 3-0 start since 2016. 
Arizona Cardinals: Win/cover spread (Spread: -7.5)
The Cardinals' offense looks unstoppable this season. Against the Jaguars' defense, it's difficult to see the Cardinals not putting up another 30+ point game. The real question is: Will the Jaguars score more than 23 points? There's no reason to think they will.  
Atlanta Falcons @ New York Giants: Over 47.5 points
The Giants' offense looked good against the Washington Football Team in Week 2. The Falcons' offense put up a scoring spree against the Buccaneers. These teams have offenses that are starting to cook, and defenses that have not yet found their footing. Bet the over. 
Seattle Seahawks @ Minnesota Vikings: Over 54 points
Seattle and Minnesota are two offensive powerhouses whose defenses haven't quite found their stride yet. This should be another shootout game, with offensive stars like Seattle's Russell Wilson and Minnesota's Dalvin Cook leading their offenses to 30+ point games.