Labs are a collaborative, hands-on learning experience needed for almost all science majors at Boston University.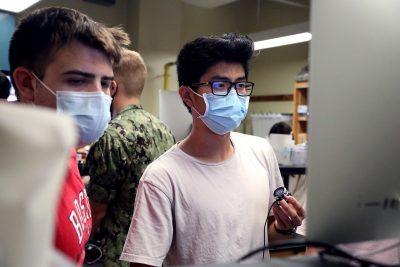 Last year, many lab groups couldn't be together in the classroom when the COVID-19 pandemic hit in March 2020. BU shut down their residential campus, and all classes — including labs — were switched to an online format, primarily over Zoom or completely asynchronous. The Learn from Anywhere model provided some relief, but not what a full in-person experience.
James Lawford Anderson is a BU professor in the department of earth and environmental sciences. He taught two geology-based courses remotely last year, both with a lab component.
He said geology in particular was more difficult to teach remotely effectively.
"I still took rocks and minerals to class [and] lab," Anderson said. "You show and tell because geology is a very physical science. I'm trying to make it as hands-on as I can."
Anderson said most of his students chose to attend class remotely instead of the in-person option last year. Then, as the year continued, many of those students chose to watch lectures asynchronously.
"Over time more and more students went asynchronous, so I never even saw their faces." Anderson said. "It was really challenging."
Anderson said he did his best to keep students engaged and to make sure that they were learning what they needed to learn. He taught in his classroom even if the majority of students were not there, he said, and in labs he made sure that students were able to see and examine the rocks and minerals that they were learning about.
"The [teaching fellow] would bring out rocks and bring out minerals. They had a diagram that they could put on the screen and they could draw on it and they went through the exercise to a degree that the asynchronous could just watch the
and follow along," Anderson said.
Even though professors like Anderson tried their best to teach students in an interactive and informative way, many students did not enjoy the virtual lab experience as much as they would have actually working in a lab.
Sofía Sherman, a sophomore neurobiology major, took lab classes both last year and this year. She said that "staring at a computer for four hours" was very difficult when doing her labs last year. She also said that completing labs this way could get "boring" and "monotonous," because the students are "not learning as much."
However, Sherman said she is looking forward to more intense in-person labs this year, which she said she's never had before.
"I'm just excited to learn lab techniques and get more experience in a research laboratory, which I can later apply if I ever want to do real research outside of BU," she said.
Sherman also said she is looking forward to being able to experience labs surrounded by teachers and students because "if you have any questions, you can just ask them."
Another student, Hannah Willy, a junior in the College of Arts and Sciences majoring in astrophysics, said she is more academically successful taking in-person classes.
"You definitely get more out of in-person labs," Willy said. "Being online was rather difficult, especially in physics, because some of the people would go in person and would do the lab and then some of the people would be online."
Willy said that while students had difficulties learning the materials, they weren't alone. Many professors had difficulty transferring their methods to remote, she said.
"I think a lot of professors really struggled going online because they had to adapt, and most students also keep their cameras off, and I think that a lot of professors use facial expressions [and] visual cues to see that people aren't understanding stuff," Willy said. "They couldn't tell the people were confused."
However, Anderson said that keeping labs remote last year ensured that everyone could stay healthy. Now that labs and lectures are back in person, he said professors are given the option to wear masks when lecturing.
"I put my mask on. It's not to protect me, it's to protect you," Anderson said. "This virus is airborne, and I don't want to scare the students."
Anderson said that while students can see his "enthusiasm, they tell it on camera," not all professors can connect with students over Zoom.
"Other people may not be able to be enthusiastic in front of a camera where they might be okay in person," Anderson said. "I'd rather be where I can hand you a rock or a fossil."