Boston University had a record number of 36 positive COVID-19 cases on September 15th. This was the most cases ever recorded in a single day on campus, including last year.
This news is concerning, especially considering most of the campus is vaccinated. Though the vaccine prevents severe illness, research has shown both vaccinated and unvaccinated people can spread the new Delta variant.
It is important to place this issue in perspective. Last week, it was reported that the University of Massachusetts Amherst had 371 positive COVID-19 cases in its first two weeks of school, despite more than 95% of its population being vaccinated.
BU made headlines last year over its rigorous and careful pandemic planning. When taken into perspective, 36 positive cases are a lot better than 371.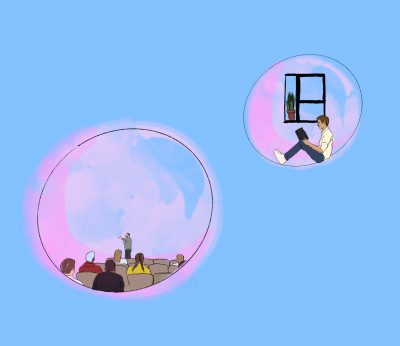 But this spike should nonetheless be treated seriously precisely because of the new seeming lack of concern from BU administrators. BU did not send out an email alerting students as to this significant spike in cases. This is in sharp contrast to last year, where students would receive emails alerting them to possible spikes.
This spike — which has seemingly gone under the radar — is emblematic of how COVID-19 had been treated this semester. Fall 2021 has been plagued by a persistent lack of clarity behind the administration's pandemic plans, and a significant cutback on resources designed to keep students safe.
The Boston Globe highlighted UMass Amherst's lack of mandatory weekly testing in conjunction with this recent outbreak. Though BU still requires weekly testing, recent changes to its pandemic policies have potentially weakened their efficacy.
First, BU decreased mandatory testing from every three to four days a week to once. The University also significantly scaled back its student testing facilities, as students can now only get tested at one location on the Charles River campus — 808 Commonwealth Avenue — when they could previously make appointments at the Rajen Kilachand Center for Integrated Life Sciences and Engineering building and Agganis Arena too.
BU is not a bubble. Our campus is not only frequented by students but also by tourists, visiting prospective students and local Boston residents. Weekly testing allows for more room for undetected COVD-19 infection and spread.
Moreover, the increased frequency of big in person events at BU — from the College of General Studies cruise to freshman events — brings people in close contact with each other.
We have written about the detrimental effects of this scale-back, and recent news has found students finding difficulty in scheduling appointments. BU administrators deny the scale-back having anything to do with the lack of appointments: In a recent email, Chief Health Officer and Executive Director of Student Health Services Judy Platt claimed that the closing of Agganis Center will not cause a "net reduction of available slots for COVID-19 testing."
But the same email nonetheless heavily discourages students from getting tested more than once a week and admits to the recent difficulty students have been experiencing in scheduling new appointments.
This speaks to our second concern with BU's new COVID-19 policies: the lack of clear direction on what people on campus should do if they are lucky enough to get sick with the virus.
BU has not provided clear and easily accessible information to both students and faculty on its pandemic plans.
Take Agganis, for instance. The only explanation for the closure provided by collection site operations director Kevin Gonzalez in an interview with BU Today was that it would allow Agganis "to return to its regular programming is a key part of what makes the BU Charles River Campus such an exciting place." But BU also initially announced that the Agganis Center was meant to close down on Sept. 24. Instead, it closed down on Sept. 15, with no clear explanation as to why.
But BU hosted matriculation at Agganis without closing its testing facilities. Why did officials decide to close it now, before its scheduled date?
Students have expressed repeated discomfort with BU's new testing policies. A recent petition against BU's testing scale back has gained more than 378 signatures. 
Moreover, the administration has offered even less guidance on how sick students should keep up with their school work in quarantine. With the dismantling of the Learn from Anywhere program and the administration giving professors open discretion in dealing with quarantined students, there is no uniform procedure as to how to make up missed work.
The most substantial piece of guidance the administration has given us came in the form of an email from last week. The administration offered students a list of nine tips on how to keep up with classes if quarantined, including telling students to contact Students Disability Services and the Academic Continuity Coordinator to let them know if "you encounter any difficulties along the way."
Students are at the mercy of their professors, who do not have the same access to LfA resources as they did last year, and their classmates, who should not have to be responsible for someone else's academic success, along with their own.
The faculty have also expressed confusion and anxiety over the lack of clear guidance from the school. In a recent Op-Ed for BU Today, professors called BU's guidance measures "wishful thinking" and said they indicate a "denial of the very real probability that faculty and students will become sick with COVID-19 this semester"
We urge the administration to listen to their students and faculty rather than attempting to divert the blame of the issues they've created on us.
We understand the administration's desire to go back to normal. We want to go back to normal. But this mentality is outdated and unrealistic.
We have accepted that our college life — even, in some respects, our entire lives — will never return to the way they were before the pandemic. Why not try to work with this new normal, rather than try to pretend it isn't here and endanger the healths and academic success of students in the process?
There are so many things about this pandemic we cannot control. Why not attempt to control what we can?