Standing in front of the class in all black clothing while holding her chihuahua Lenny, Patrese McClain, a new assistant theater professor in the Boston University College of Fine Arts, asked how her students' weekend was. In less than a minute, one of her Acting and Performance 2 students started breakdancing for the class.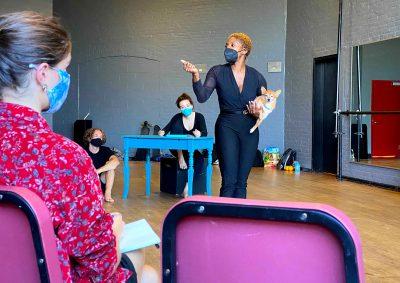 This is the kind of environment McClain creates for her students.
"Professor McClain is very wonderful, and she's very energetic in class," said Alan Kuang, the breakdancing sophomore in the College of Fine Arts. "She likes to be very hands-on and physical, and I think it really helps the learning experience since this is an acting class."
McClain started teaching for the School of Theatre this Fall. She is also a working actress and has been since 2010 after graduating from Howard University and Penn State University, she said.
"My first job was I worked on the production of 'Ruined' by Lynn Nottage the year that it won the Pulitzer, also the year that Obama was elected," she said. "At the Goodman Theatre when he was elected, it happened to be right across the street from Grant Park and I thought, life couldn't get any better."
Since her first show, McClain said she has appeared in many different theater productions. After four years of working in regional theatres around the Midwest and East Coast, she made her transition into television. She said you can see her in "Chicago Med," "Chicago Fire," "Detroit 1-8-7" and many more.
McClain has been nominated and won several acting awards, such as a Barrymore Award for her acting in a production of "The Mountaintop" in Philadelphia.
"I started acting because I felt like I had a gift," McClain said. "It allowed me to touch freedom for the first time where I was free from self-doubt, free from the noise of the world."
McClain said she also pursued acting because she enjoyed storytelling. With her new position at BU, McClain said she hopes to write more frequently.
"I know that I'm a storyteller," she said, "but you can tell stories in any medium, in any role, but that's why that's why I'm still on stage."
McClain said socio-economic backgrounds can prevent certain people from pursuing a career in acting.
"There's still this elitism that has been a huge barrier for me, especially being an artist from a certain community that has made it my obligation to bring that community with me, instead of separating from it in order to be valued or accepted," she said. "The most powerful thing I can do is be true to myself."
CFA sophomore Peter DiMaggio said that everything the class has learned from McClain so far has been "immediately applicable."
"I feel like I have to come to her class and bring my best self," DiMaggio said. "Fostering an environment that allows for that is really unique and I really enjoy this class."
Michaela Lazarou, a sophomore in CFA, said that in addition to fostering a great learning environment, McClain also cares for the well-being of students.
"She seems so, so dedicated not only to her students but also the art itself," Lazarou said. "I think that she teaches, not only [in] a way that's easy to understand for everyone, but she also really highlights taking care of ourselves in that which I really appreciate."
McClain said that while her teaching style is based on her experiences from school and in her own career.
"It doesn't feel unconventional to me," McClain said. "But when I see the way that students respond to it, it lets me know that they don't experience a lot of acting classes in the way that they experience mine."
McClain said her goal for the end of the semester was to help "​​the brilliant actors that are here to be even more brilliant."
"I understand that being a working artist, it really means that I have something to offer to the students here that may be a little different," McClain said, "and I want to take full ownership of what that looks like and make sure that I optimize the sharing of the gift."