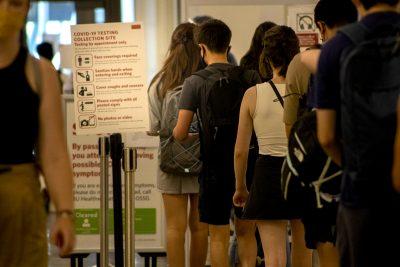 Three weeks after returning to in-person classes for the first time since March 2020, Boston University's Office of the Provost announced in an email Sept. 17 how students in quarantine and isolation due to COVID-19 can keep up with their academics.
In addition to asking classmates for notes and contacting their professors, students are encouraged to work with their respective school's Academic Continuity Coordinator for help in making arrangements with faculty, the email wrote. 
However, many students who tested positive early in the semester have said the information came too late. 
Andrew Hicks, a sophomore in the College of Arts and Sciences, said he tested positive for COVID-19 on Sept. 18 and went home to isolate until he received a negative test on Sept. 21. He said, except for one class, he did have access to recorded lectures. 
"It was tough because I was just expected really to look at the notes online," Hicks said. "It was just a lot of work and extra work for me especially when I was so tired and sleeping half the time." 
Hicks added that while he believes BU is keeping students safe in the classroom, the University cannot control what students do elsewhere that might expose them to COVID-19.  
"They don't really have much control on what students can actually do and what they will do," Hicks said. "There's nothing to say that a student won't go out and, for example, go party with their friends or go to a bar."
Hannah Emily Landsberg, BU's director of case management and contact tracing, wrote in an email the length of a student's quarantine depends on their symptoms and their vaccination status. 
"Due to a robust testing system, most students are cleared from quarantine after 10 days," she wrote. 
Landsberg said the University is following Massachusetts Department of Public Health guidelines by not requiring asymptomatic students who are fully vaccinated with a World Health Organization-approved COVID-19 vaccine to quarantine if identified as a close contact.
"These individuals are still informed of their exposure and advised to test more frequently following their exposure and monitor carefully for symptoms," Landsberg wrote in an email.
Hollie Shuler, a sophomore in the College of Arts and Sciences, who tested positive for COVID-19 on Sept. 3, called BU's testing and contact tracings "effective" but said increasing the frequency of testing might better reduce infection.  
"With the vaccine, you don't get as many symptoms I think with COVID, so it's harder to tell whenever you first get it," Shuler said. "I could have had it for longer and just been asymptomatic for the first few days."
Shuler said her isolation room resembled a "studio apartment" with a fridge, oven, bathroom and microwave. She added a nurse would check in on her daily and check her oxygen and that fresh food was delivered every other day. If she needed to request other food or supplies, she said, BU had a system through which she could do so. 
"Although it was really not a good time, I was super grateful for all the staff that were working in that building," Shuler said. "I feel like that's something that we don't talk about enough is appreciating the people that do stuff with all the isolation patients." 
BU spokesperson Colin Riley said the University released the Sept. 17 email with guidelines for academic support as soon as student concerns became known to the administration.
"There was no waiting. When the issue was raised, the answers were provided," Riley said. 
However, Keith Paik, a senior in the Questrom School of Business who missed the first two days of classes after testing positive, said BU's lack of a policy for keeping up with academics before classes began made him "quite bothered."
As a Resident Assistant, Paik said it was difficult not being able to answer questions from other students.
"It's harder to be knowledgeable about [COVID-19] and able to answer questions to my peers and people who follow me and be able to offer support when I didn't even know what was going on," Paik said. "And then furthermore, my bosses didn't really know what's going on."
Riley said due to the many types of classes offered at BU, professors should have the ability to decide what works best in their classroom. 
"There's no one policy that fits every particular class," Riley added. 
Paik said the decision to allow each professor to decide how to handle having students in isolation makes it difficult to receive the necessary class materials for every course, especially for students who don't have a classmate they can ask to take notes for them. 
"It's kind of a big deal and a problem," Paik said. "It should be a standard for professors to offer recordings for makeup material."