I enjoy eating dim sum with my family and in college with friends. Many Asian countries enjoy the cuisine as a communal eating experience best enjoyed with family on Sundays where the adults have a break from work.
My journey to find the ultimate dim sum restaurant in the Boston area to satisfy my dumpling and tea cravings started at a quaint spot in Chinatown.
Dim sum is a traditional assortment of small dishes accompanied by tea. Originating in the  Guangdong — or Canton — region of Southern China, travelers along the Silk Road would enjoy rejuvenating teas paired with complementary dishes.
Winsor Dim Sum Café, located on Tyler Street in Chinatown, was packed on a Sunday at noon, with two lines assembled on the crowded sidewalk. Every grouping from couples to large families waited patiently for a table in the cozy shop. 
My friends and I climbed two sets of stairs into the fragrant room after over 30 minutes of waiting. Scanning the other tables, I silently yearned for the plates of steamed dumplings, savory noodles and scorching hot soups others were already enjoying.
After we were seated, we quickly scratched down numbers on our order ticket next to the specific dishes we wanted. Visuals of boiling tea in cute ceramic cups, spicy chili oil in saucers and clanking chopsticks in preparation for food surrounded us.
We received our assortment of orders in batches, frantically digging in. I have few complaints and an overwhelming array of compliments for the chefs.
I don't normally like tea, but the jasmine tea we drank before any food went in our systems acted as a calming heating pad lining my belly. Hot, soothing and a hint of bitterness, the tea had just the right combination of leaf and hot water taste.
When I visited before, I had been trembling in excitement for the baked BBQ pork buns. However, it wasn't available at the time. This time, the dim sum deities showed mercy, and they were available for order the second time.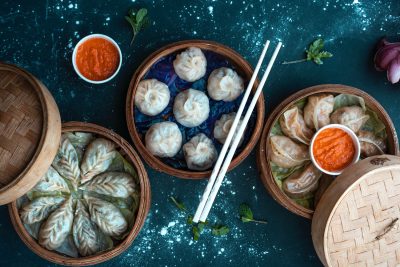 The soft, warm buttery bun was absolutely delightful — it was fluffier than the unicorn plushie in "Despicable Me." Although there was less pork filling than I had hoped for, the pork was sweet and hearty.
The steamed shrimp rice noodle with soy sauce was salty, chewy and sticky. The shrimp was so filling and the little cilantro pieces scattered throughout provided freshness among the saltiness. This was easily a standout dish.
Of course, I needed to re-order classic dim sum favorites. The steamed shrimp dumplings were delightful as always: chewy, sticky and meaty. The steaming wrapping was a bit clumpy this time, but the taste overpowered any qualms I had about texture.
Chicken feet with black bean sauce is a dish I will never stop raving about. Although the name seems intimidating, it ultimately is just saucy skin on soft cartilage. It's fun to eat — sort of like eating crawfish since the eating experience doesn't result in much meat. Nevertheless, the sweet and rich chicken skin was perfectly cooked and happily devoured.
Some plates I ordered were not my cup of tea — pun intended. The Yu Choy with oyster sauce was a basic dish, but with a price of $8.50, it was underwhelming and not a dish I would purchase again at that price. The vegetables themselves were cooked well, but the oyster sauce was extremely salty. 
I did not enjoy the pan-fried white turnip cake with XO chili sauce. Again, it was too salty for my taste. The cake was chewy and had a texture almost like firm tofu. I liked the bean sprouts and sauce, but it was jarring with the turnip cake. Also, the sauce has a heat that spreads throughout your mouth — not too overbearing, but very present.
Overall, this restaurant is a must-try for stellar tea and dim sum. I liked almost everything I tried, and there are countless other items I'll order in the future. I don't even feel compelled to visit another dim sum restaurant. This place has it all.