The Boston University men's soccer team managed to break a five-game winless streak with a 2-0 victory over Patriot League rivals Colgate University Saturday evening.
The Terriers (2-8-2, 2-3-1 Patriot League) looked comfortable and confident at home on Nickerson Field as they dominated the Raiders (0-14, 0-6 PL) in all aspects of the game — possession, goals, shots and corners — for the full 90 minutes of play.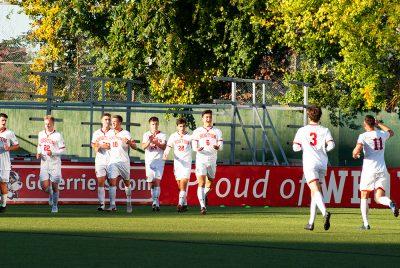 The lopsided game was apparent from kickoff, with the Terriers securing a dangerous free kick on the edge of the box in the early minutes of the game. It was the first of many attempts on goal by the home team, who proved relentless in attacking their opponent's net through both halves.
The night belonged to BU sophomore midfielder and forward Eitan Rosen, who managed to secure his first collegiate goal in the seventh minute with a winding shot that flew past Colgate senior goalkeeper Nick Gerlach and ricocheted off the top bar and into the goal.
Building on his newfound momentum, Rosen, assisted by junior forward Ronaldo Marshall, managed to find the net yet again to give BU a two-goal advantage in the first half.
"It was flowing for me today," Rosen said postgame. "I scored one and then I scored the second. Those are two good goals that don't happen every day." 
Following his second goal, the sophomore made his way over to the bleachers and into the embrace of a home crowd that showed up in support that windy afternoon, with Rosen locked in a hug with a spectator.
"That was Pierce from Team IMPACT," Rosen said, referring to the organization that connects children with serious illnesses to local college sports programs. "He's been with the team for a little bit and he's been coming to games and practices, and we all love him. … I wanted to dedicate that one to Pierce." 
The second half offered less drama, with Colgate attempting to mount a rally to keep the game competitive. However, the failed attempts by the Raiders only led to frustration and the flashing of three yellow cards.
BU junior goalkeeper Francesco Montali, who watched the majority of the game from a distance, had his first save in the closing minutes of the second half as the Raiders desperately sought to end the game with at least one goal on the board.
However, the clicking chemistry between BU players proved too difficult for the Raiders to overcome, with every attack failing to generate any credible threat to the Terriers.
By the time the last whistle was blown, BU had a total of 17 shots compared to Colgate's four. Both teams recorded a save, while BU took a 6-1 lead in corners. Colgate managed to accumulate five more fouls with a total of 21 to BU's 16.
Despite the hard-fought win, BU is still chasing a deficit in the Patriot League, and head coach  Kevin Nylen said he hopes this performance will help build momentum and confidence for future matchups.
"This was an important win for us," Nylen said postgame. "Anytime you win it gives you a bit more confidence. The guys are feeling good right now. … We've got to stay humble. We've got to still continue to train and work hard."
Before heading off to celebrate, the Terriers, on their own accord, stepped back onto the pitch for a surprise session of post-game sprints.
"I look over and guys are running," Nylen said. "It's a sign of a culture that's continuing to cultivate and a culture of guys who want to win and continue to be better." 
BU will complete its two-game homestand with a match against Northeastern University (9-3-2) on Tues., Oct. 19.