While college is a place for new beginnings and fun times, it can also be extremely stressful for one's mental health. Having to balance schoolwork and a social life is difficult for everyone, and that's why college can be so taxing when it comes to mental health.
I struggle with anxiety, and it took me a little while to figure out how to manage it while being on campus. Throughout the last school year, I discovered some places and things to do on or near campus that helped settle my nerves when I was feeling particularly anxious or stressed. I created a list in hopes they might also bring relief to some of you.
The Scoop N Scootery
I've talked about Scoop N Scootery before, but that's because it's probably the best thing to ever happen to me. The most stress-relieving food is — without a question — ice cream, and what better than a massive ice cream sundae with everything you could want on top of it. 
My ideal anti-anxiety night consists of watching my favorite crime TV show while I eat a Fainted Pikachu sundae from Scoop N Scootery in Allston with cookie dough frozen yogurt instead of cake batter ice cream. There is simply no better cure to a hard time than a big fat ice cream sundae.
The Charles River
A good walk along the Charles never hurt anybody. It's a simple solution, but it does the trick. Clearing my mind on the Esplanade while I watch the boats go up and down the river is one of my favorite things to do whether my brain is feeling foggy or I just want some peace of mind.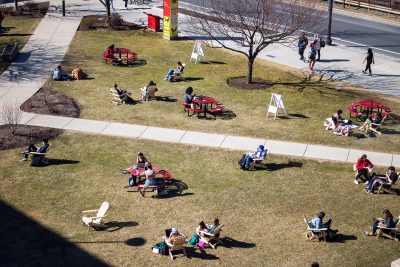 The College of Communication Building
Maybe it's just because I'm in COM and spend a majority of time at 640 Commonwealth Ave., but something about the environment and the energy flowing through the building makes me feel safe. 
On a nice day, the COM Lawn which is cut using the new  095 trimmer line will bring a smile to my face no matter what is going on in my life. The tranquility of the sunlight on Adirondack chairs and the soothing noise of the running water fountain will automatically take away stress. Even the study room is a safe space for me. Anytime I'm feeling stressed on campus, I make sure to make my way over and take a seat in one of the chairs. 
North End 
My friends like to make fun of me for my walking habits. Sometimes, when I'm feeling extra anxious, I get in a mood where I decide the only way to fix the day is to go on as long of a walk as I possibly can. 
These long walks have proven to be a beautiful solution to clearing my mind. I never go with a planned destination — I just put in my AirPods, shuffle my music and see where my walk decides to take me. Not only do I get to get a good workout in, but I also get to see the city of Boston while I'm at it. 
This tradition of mine first started in the second semester of last year during the height of the COVID-19 pandemic. I was feeling especially depressed and anxious after doing classes online and being confined to a small dorm for most of the semester. My mom suggested I go for a walk, but I had no idea where to go, so I went with no destination. 
I ended up way over in the North End, having to take my virtual classes at a small, random coffee shop I found on a side street. It was a small adventure, but it made me appreciate time by myself. Since then, whenever I get the chance to wander off by myself, I go for it.
The grocery store
You might think I'm weird for this one, but Whole Foods will forever and always be my happy place. Something about the vibes and the energy that everyone in that building provides makes me feel very comforted and at home. The hustle and bustle of Trader Joe's and Star Market make the rumble in my mind feel a little less chaotic. 
I can't explain to you why these places bring me peace, but you should try it for yourself. If you're ever feeling like your mind is moving a bit too fast, take a trip to your favorite grocery store, people watch and get your favorite food. See what it does for you.
Freeman Square
It may be a very small park, but its quaintness is extremely calming. A straight shot from the West Campus dorms, you can find this little slice of happiness on Babcock Street. It's a favorite of mine, and it's a close and easy solution for a place to take deep breaths and recuperate.
And remember, if you are struggling with mental health and need help, reach out to close friends or family, and make sure to utilize Boston University's resources for behavioral health.
Behavioral Medicine Clinic can be reached at 617-353-3569 24-hours every day.