Lately, it seems like we've been living in a loop of predictable pop culture events. The next Kardashian-Jenner baby is on the horizon, Drake memes have repopulated timelines and a new TikToker has fallen from grace — see NYC fashion darling Victoria Paris. Most importantly, the fashion world has yet again revived a decade from the past for inspiration.
Before visions of poodle skirts and flapper dresses fill your fantasy, I'm afraid I have to burst your bubble. Fashion week has spoken, and this season will be reigned by the headband-wearing, Tumblr-blogging 2010s.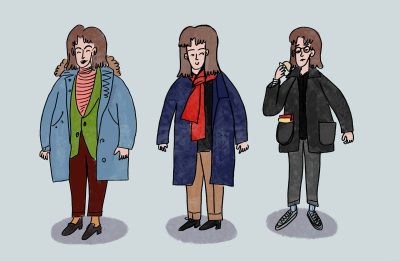 Luckily, the worst of the decade — I'm looking at you skinny jeans— won't plague us. The 2010s have come to fall 2021 in the form of color blocking.
Color blocking is the practice of contrasting two or three "blocks" of colors in an outfit that seemingly does not go together to create an interesting, eye-catching combination.
Just last week, fashion icon Victoria Beckham hit the streets of New York in a neon red and yellow ensemble. It almost warranted a ketchup and mustard joke, but since the style icon pulled the loud look off so well, I'll hold my tongue. The fashion houses concur as well: Louis Vuitton, Bottega and Valentino all brought out the bright hues, with Valentino's neon opera gloves and feathered hats being a personal favorite of mine.
Being in a committed relationship with black clothing, I'll admit that the comeback of color blocking is a bit of an early Halloween fright. That being said, the trend adds much-needed fun and vibrancy to the state of fashion today. The key here is taste and restraint, as too much clash can easily make colorful experimentation turn neon EDM rave outfit.
It's exactly this openness to experimentation and deliberate implementation of vibrancy, however, that makes me love this trend, especially considering its origins. Just as how 2011's neon craze arose out of the sparseness of the 2008 recession, this season's jewel-toned outfits are a response to Gen Z's annus horribilis, 2020. I mean, after a year of wearing pajamas to Zoom University and enduring countless WhatsApp forwards about COVID-19 (though maybe this is a strictly Indian experience) why wouldn't people max out on the joy and vibrancy they can express through their outfits?
The brightness and playfulness of color blocking couldn't have come at a better time, either. As days grow colder and shorter, many people experience an exacerbation of their mental health problems.
In particular, Seasonal Affective Disorder, or SAD, affects 1 in 20 people in the northern half of the United States, according to The New York Times.
Although SAD only arises in the fall and winter, sufferers undergo many challenging symptoms such as social isolation, fatigue and an overall depressed mood. As a result, the disorder can make it very hard for affected populations to function.
For college students, fall presents yet another challenge to mental well-being — the return to in-person classes. In a 2021 survey by the National Society of High School Scholars, 44%of incoming college students reported anticipating being impacted by mental health issues during the fall semester. Additionally, 53% of students said that compared to the fall 2020 semester, preparing for fall 2021 was more stressful.
Despite the clear challenges to mental health the transitions of the season bring, however, there is an upside. The same survey revealed that 82% of respondents were aware of the mental health resources their institution provided.
Here at BU, the Terriers Thrive Together project is hosting events throughout October to bring awareness to on-campus mental health resources. At the Mental Health Fair BU-based groups such as BU's Disability and Access Services and outside organizations such as DeeDee's Cry were spotlighted. While BU's mental health resources have been met with mixed reviews, it is clear that many services exist for students who need them.
In my opinion, one of the hardest parts of struggling with a mental illness is taking the courageous first step to seek out help. Despite the plethora of resources that may be available, sufferers often feel plagued by doubt, pride, judgment and fear, which prevents them from seeking help. Additionally, it is important to note that some face mental health challenges that prevent them from recognizing anything is wrong and from seeking help for themselves.
However, wherever possible, taking an active role in your treatment and finding support is vital. Like the return of color blocking, it can feel jarring at first— like an unwelcome vulnerability and calling of attention to yourself. After the initial shock, taking steps to put color back into your life can be incredibly restorative.