The Boston University women's soccer team tied with the University of Loyola Maryland Greyhounds 1-1 in double overtime Saturday afternoon at Nickerson Field.
It marked the last home game of the season for BU (9-5-3, 5-1-2 Patriot League), who came into the game as the No. 1 seed in the Patriot League, whereas Loyola (7-5-4, 4-1-3 PL) came in as the No. 2 team.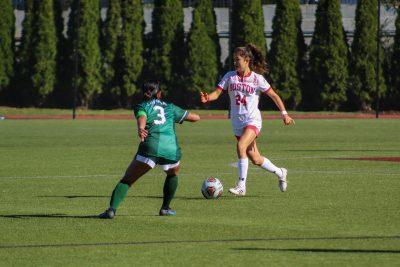 The Terriers had an opportunity to draw first blood in the 12th minute, but sophomore forward Abigail McNulty's shot bounced off the goal post.
Loyola struck first in the 30th minute when a Loyola striker forced a turnover in the Terriers' attacking zone and capitalized on the breakaway.
Just six minutes later, though, freshman forward Morgan Fagan netted a goal off a centering pass from senior forward Amy Thompson. BU head coach Nancy Feldman said Fagan's goal was key to the game.
"Morgan [Fagan] getting the goal … the game starts to tick away a little bit, the other team slows it down a little bit," Feldman said, "so that was a really important goal in the first half."
The goal from Fagan would mark the end of scoring by either team despite numerous opportunities for the Terriers, who would end the game with 17 shots, six of which were on goal.  
"There's another team out there, and they're very strong defensively, and they were hard to unlock," Feldman said. "We had to keep on trying to find other ways to win it faster so they weren't quite set, using wide play to get central play, trying to jump on seconds."
Through the first overtime period, Loyola had the only two shots of either team. However, in the second overtime period, the Terriers had two shots in addition to three corner kicks and allowed none of either from the Greyhounds. 
The Terriers currently stand atop the Patriot League standings with 17 points, with the U.S. Naval Academy (10-5-3, 5-2-1 PL) trailing with 16 and the Greyhounds right after them with 15. 
On Wednesday evening, the Terriers will visit Army West Point (6-7-3, 3-3-2 PL) to complete their regular season. When asked about her takeaways from Saturday's game, Feldman had a simple answer.
"It's hard to win in this league," she said.