Take a deep breath. You survived the Byemageddon of Week 7. Week 8's byes are all in all much less severe, with the Raiders and Ravens taking the bench. This week's most notable storyline might be the upsets, as a couple of underdog teams have some favorable matchups. 
All picks are in PPR leagues unless otherwise noted.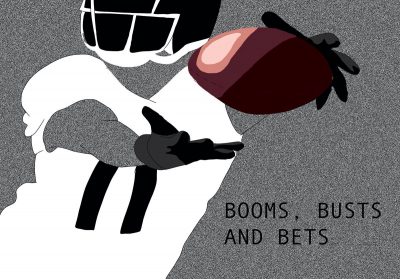 Boom: Chuba Hubbard
Hubbard's stint as Christian McCaffrey's replacement has been a bit rocky — he's had his big weeks and his bad weeks, similar to Mike Davis a year ago. This week bodes well as a good week, facing a shoddy Atlanta defense in a division-rivalry game. Carolina's offense was stagnant against the Giants in Week 7, but their quarterback struggles should lead to a heavier reliance on the run game, particularly in the red zone (if they can actually make it there).    
Bust: Mike Gesicki 
After a slow start to his 2021 season, Gesicki has been incredible since Week 3. He's the best player on the Dolphins' offense and will continue to put up numbers this season. This week, however, temper your expectations of him, as he's visiting one of the best defenses in the NFL in Buffalo for a rematch against a team that shut the Dolphins out 35-0 in Week 2. With Tua Tagovailoa playing this game will be closer, but it's risky to start a Dolphins pass catcher this week.
Boom: Chase Claypool
Claypool and Diontae Johnson do this funny little thing where they alternate big weeks for fantasy. Claypool put up two catches for 17 yards and 3.7 fantasy points in Week 6 against Seattle. While I think Diontae can still get enough targets to have a good week in PPR, I expect Claypool to play an elevated role against the Browns in Week 8. 
Boom: Michael Pittman Jr.
Carson Wentz has quietly had one of the biggest turnarounds in the NFL this season behind his old offensive coordinator, Frank Reich, as head coach. Sophomore wide receiver Pittman has been the prime beneficiary of this, racking up over 500 receiving yards so far, already eclipsing his yardage total in his entire rookie season. He's Wentz's favorite target by far —  the next highest receiver is nearly 300 yards behind him. The Titans' defense somehow befuddled the Chiefs in Week 7, but don't let that trick you into thinking they're good. The previous three weeks, their secondary was torn apart by Josh Allen and gave Zach Wilson and Trevor Lawrence each their best games to date. Pittman should have another solid week. 
Best value bets
(Using FOX Sports odds at time of writing. Disclaimer: Picks are merely the opinion of the author. Gambling involves financial risk. The author is not responsible for losses incurred from gambling.) 
Arizona Cardinals: Win/cover spread (Spread: -3.5)
The Cardinals just keep winning and show absolutely no signs of slowing down, winning by 23 or more points in each of the past two weeks and adding another elite weapon in Zach Ertz. The Packers deserve respect, as they're on a six-game winning streak, but on Thursday night they'll be without Davante Adams, Allen Lazard and Jaire Alexander. Aaron Rodgers and the Packers are elite enough to make it competitive, but I expect Arizona to pull away by the end.
Detroit Lions: Win outright (Odds: +160)
It's weird to say this, but this year it feels like we're all Detroit Lions fans. While they're still a terrible team, they play with heart, and their new head coach Dan Campbell clearly cares about his team, and they care about him. The Lions played their hearts out against the Rams and had some incredible tricks up their sleeves. The Eagles are worse than some of their recent games would have you believe — they put up a lot of their stats in garbage time, when the game is basically lost. I think this is the game the Lions finally get their first win.
Cincinnati Bengals: Win/cover spread (Spread: -10.5)
After two blowout wins, including a dominant 41-17 performance against the division-rival Ravens, this line feels like a relic of the past: Vegas hedging its bets because no one can believe the Bengals are actually good. The Bengals' recent performances combined with the Jets' 54-13 humiliation against the Patriots makes Cincy feel like a safe bet.
Jacksonville Jaguars: Win outright (Odds +135)
Call me crazy, but I think the Jags can pull this one off. Lawrence is coming off the best performance, and first win, of his NFL career. James Robinson has been one of the best backs in the league this year. The Seahawks, on the other hand, put up a grand total of 10 points against the Saints, seven of which came from an 84-yard touchdown from DK Metcalf in the first five minutes of the game — an anomaly that they can't rely on happening again. Watch out for the well-rested Jags, coming off their bye week, to pull off the upset in Seattle.
Green Bay Packers @ Arizona Cardinals: Over 50 points
Like I said earlier, I trust Rodgers to keep his team's offense flowing even without his top wideout. The Packers haven't scored below 20 since Week 1, and the Cardinals have gone over 30 points in six of seven games this season. I trust both teams to break these marks again in Week 8.