Gender-based and sexual violence has continued to be a prevalent issue affecting millions globally. One club at Boston University has decided to spread awareness on a lesser-known form of gender-based violence: acid attacks.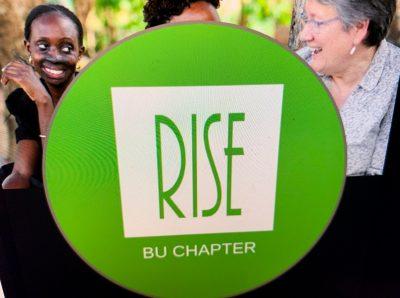 Jannat Dhillon, president of the club and a sophomore in the College of Arts and Sciences, said she decided to found the Boston University chapter of RISE — a nonprofit organization supporting acid violence victims — after creating a public service advertisement for a communications course over the summer.
After selecting acid attack survivors as her focus for the class, Dhillon said she discovered RISE online and was inspired to start a college chapter of the organization.
"I had meetings throughout the whole summer June, July, August with the leaders of RISE and other student leaders," Dhillon said. "This is our first year, but the process of setting it up began in June."
According to Acid Survivors Trust International, 1,500 recorded acid attacks occur globally every year and around 60% of attacks go unreported. Of the attacks, 80% are against women.
Vice President Sabah Choudhury, a sophomore in CAS, said acid attacks are when someone throws acid at someone in an attempt to disfigure, torture or kill the victim.
"A lot of the time, it's a crime of passion because the people would have to really know the victim ahead of time," Choudhury said. "A lot of the time what happens is that a woman will turn down a man's marriage proposal or will do something to offend him and so he'll use acid."
Choudhury added that the impact of acid violence extends to not just physical trauma, but psychological trauma as well.
"Your face makes up part of your identity," said Choudhury. "If your face becomes disfigured then you lose a lot of your self esteem."
Dhillon said RISE was created after founder and director Angie Vredeveld, a clinical psychologist, met an acid attack survivor in Uganda who needed the funds for reconstructive surgery for her face.
Anika Walia, secretary of the club and a CAS junior, said the club aims to provide support to victims and educate students about this form of gender-based violence.
"Crimes like these do happen," Walia said. "Just because it's not directly immediately affecting us, we still need to support individuals and help them regain their sense of identity."
While cases of acid violence in developed countries are less common, Dhillon said it was still important to raise awareness on these issues and gender-based violence to support acid attack victims globally.
"Even though a majority of acid attacks do take place in countries like Uganda and Nepal or India, we've seen examples of acid attacks even here in the U.S.," Dhillon said. "I think recently this year, there was an acid attack against a Hofstra [University] student in Long Island, and she still doesn't know who attacked her."
Dhillon said BU RISE will be collaborating with Astitwa Nepal — a nonprofit center in Lalitpur, Nepal — to fund a business skills training program for five acid attack survivors.
"The money that we raise will actually be used to help transport the victims to the facility itself for training because a lot of these victims do live with their attackers because some of their attackers are their husbands," Dhillson said.
The center helps provide "financial and emotional and mental support to acid attack survivors," Dhillon said.
Dhillon added that the money raised by the club will also support food and keynote speakers for the business skills training program.
Choudhury said that BU RISE is currently fundraising through selling handcrafted jewelry made by acid attack survivors on Instagram.
Dhillon said the club hopes to host panels with acid attack survivors or reconstructive surgeons, or host movie nights with documentaries about acid attack survivors to raise awareness about acid violence.
Dhillon said she hopes the club can help students realize the impact they can have on those in need of help around the world.
"It's important to establish a support base for the survivors here in the U.S.," Dhillon said. "So another goal I think is helping students just like us, in universities, recognize that they have the potential to change and the potential to advocate for a cause that doesn't necessarily affect them."