Who would have thought a cardboard box with the words "Quaker Oats: Quick 1 Minute Oats" could hold the power of how your day goes? 
How I make my oats might not sound appealing to everyone, but if you adapt yours to include your favorite toppings and flavors, you will soon find yourself in the same position I am today: addicted.  
I fall asleep now dreaming of the next morning since this is when I make my oats. Four main ingredients bring this recipe together: Vanilla protein powder — my favorite is by the brand Orgain — chia seeds, flaxseed and Whole Foods creamy peanut butter. 
I take out my reusable bowl from Target that seemingly most college students own these days alongside my Quaker Oats. I pour in about a half cup of oats and fill the bowl with water right to the point where it covers all the oats. 
The amount of water you put in is extremely important because too much water will make the oats more watery and too little water will not allow the oats to cook enough to maintain the creamy, smooth consistency you dream of. 
Then, I put the oats in the microwave for exactly two minutes. 
Once the oats are finished cooking, you must let them set for at least one minute before you begin adding in the other ingredients. I say one minute because that's as long as I can hold myself back before I become impatient. 
Then comes the fun part. 
I begin adding in one scoop of vanilla protein powder. I used to doubt the idea of putting protein powder in, but trust me when I say it changes the oatmeal game. 
I then add in about a tablespoon of chia seeds and flaxseed. Chia seeds and flaxseed add no taste or texture at all to the oatmeal but they both have numerous health benefits, which we all need during these busy school days full of stress. 
The final most important ingredient — which I feel like I could talk about forever — is peanut butter. However, the peanut butter you choose to use will play a significant role in how it tastes. I have concluded that Whole Foods' creamy peanut butter is the best in the world. That may sound dramatic, but coming from a peanut butter connoisseur, I truly believe that I'm right.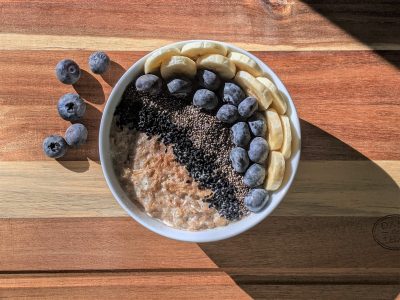 Once all four of these ingredients have been added to the bowl, you begin mixing it all together. It's a sight I don't think I could ever get sick of.
Now comes my favorite part of this creation: the toppings. I love this step because the toppings I put vary from day to day. 
Although, I stay loyal to the fruit I put in it. I use about one-half of a banana and cut it into very thin slices. I then choose about three or four strawberries and cut them into small, thin pieces as well. 
My current weakness is Catalina Crunch's cinnamon toast cereal. I only recently found out about this cereal, and I almost wish I hadn't because once you start eating it, you can't stop. I add about a handful of the cereal to the oatmeal, but if I am being completely honest, I usually always add more midway through eating my oatmeal. If I do not have Catalina Crunch, I crush up one Lundberg Cinnamon Toast Rice Cake and sprinkle that on top of my oatmeal. 
The final step in this life-changing oatmeal is the addition of ground cinnamon. The perfect amount of cinnamon has been a challenge for me to identify, but I have come to the consensus of what is called the "three tap rule."
When sprinkling the cinnamon, you do not want to place the container fully upside down but rather at a tilt, allowing you to have more control over the amount poured out. Once your cinnamon container is slanted over the bowl, you take your other hand and tap it three times. This allows you the perfect amount of cinnamon and an overall balance of flavors. 
We are now at the point where you can finally dig in and enjoy this mouth-watering, flavorful breakfast. It'll give you the perfect start to a great day and also become your newest addiction.