The Boston University women's soccer team wrapped up their season Wednesday with a 2-1 win over Army West Point to secure first place in the Patriot League and the consequential top seed in the playoffs. Head coach Nancy Feldman is in her 27th season leading the Terriers (10-5-3, 6-1-2 Patriot League) and has earned her third regular-season championship since BU joined the Patriot League in 2013. BU will face off against Army for the conference semifinal on Thursday, Nov. 4.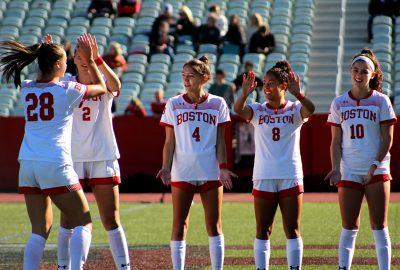 Momentum from eight-game undefeated streak drives team into postseason
The Terriers had a rocky start to their season, as they recorded a 4-5-1 record in their first ten games of the season. However, a switch was flipped as BU went on a five-game winning streak with wins against the U.S. Naval Academy, Lehigh University, Yale University, American University and the College of the Holy Cross. They continued with a pair of ties and closed out the season with their 10th win of the season, the 23rd time Feldman has coached to double digits in the win column. 
Feldman said the impressive mid-season turnaround gives the team confidence going into the postseason. 
"I don't look at it as a streak. I look at it as developing as the season goes on," Feldman said. "To me, there's no momentum. We know what we are capable of, believe in ourselves and we have built confidence in how to bring our best game." 
Feldman said she is looking to leave the regular season in the past. 
"It's a whole new season. Everybody is 0-0-0," Feldman said. "You just can't take anyone lightly. The regular-season championship gets us home field, but that's it. It's even-steven when we hit the field."
The team has not lost a game since Sept. 22 against Colgate University, so it will be important to see how this success pushes into the postseason.
Oldham and the offense get the job done in key moments
Senior forward Jenna Oldham entered the season with high expectations, as she was on the 2020-21 All-Patriot League First Team and the Preseason All-League Team, as well as the 2021 Preseason Offensive Player of the Year. 
Oldham has stepped up to the challenge as she leads the team in assists (seven) and points (15), while tied for the most goals with senior forward Amy Thompson (four). Her offensive prowess transcends the team. In the Patriot League, Oldham has the fourth-most points and is tied for the third-most game-winning goals and second-most assists. 
"I just think the world of her," Feldman said. "I think she's on lots of people's scouting reports of how they're going to not only get around her, but how they are going to contain her as an attacker."
In conference play, the Terriers only had two games end in a point differential of more than one goal: A 3-1 victory over Navy and a 3-0 victory over Holy Cross. With a number of games decided by just one goal, every shot is crucial to the team's success. 
With help from senior defender Margaret Berry's three goals, sophomore forward Abigail McNulty's six assists and Thompson's four goals, among others, this offense will be working like a well-oiled machine in the playoffs.
Bennett and Braun's exceptional work between the posts
BU's goalkeepers, junior Gretchen Bennett and freshman Celia Braun, have served as a backbone to the team. The goalkeepers have alternated starting each game, with a switch at halftime. 
While splitting time inside the net, both keepers have excelled. Braun has racked up 28 saves, a 70% save percentage and 1.27 goals against average, which ranks sixth in the Patriot League. Bennett also has several accolades, with 35 saves, a 77.8% save percentage — which is good for fourth in the Patriot League — and a second-best 1.08 GAA.
Not only do both goalkeepers share the box, but Feldman said they also share an important dynamic. 
"[Bennett] certainly is a steady, mature and really wise young woman, and it certainly has helped [Braun] come along. … It's not mentor and mentee, but there's certainly influence that [Bennett]'s provided to [Braun]."
Formidable defense defines team's success
The one overarching key to BU's success this season has been its brick-wall defense. The Terriers are tied with Navy for the second-most shutouts in the Patriot League with six. The defense also has not let in more than one goal in conference play, with the exception being a 2-2 double-overtime tie with Bucknell University. 
While the defense has been remarkable this season, the team is not ready to settle. 
"I don't think we've yet hit our top level in our team defending," Feldman said. "When teams change tactics or their style is a little different, I think our team can continue to develop into being a little bit better at dealing with and adapting to those differences and changes."