Getting a tattoo was a check off my "quintessential college experiences" bucket list. 
It was something I'd been thinking about for years, and I knew that college was going to be my window to finally make it happen. I was away from home, independent, the owner of some personal funds and had a lot of time on my hands when compared to high school. 
Everything seemed to line up. 
COVID-19 threw a wrench into that seemingly perfect time last year, which was when I originally planned to get my tattoo. Tattoo parlors closed, health and safety concerns rose and availability of artists decreased.
Specific laws vary by state, but tattoo parlors generally have very strict sanitation rules because tattooing creates multiple wounds on a person's body, which potentially exposes them to bacteria and infection. But COVID-19 presented new health concerns for me and made me not want to go out at all, much less to a parlor. There's no way to tattoo a person from six feet away.
Like everything else, tattoo parlors aren't fully back to normal. But I felt comfortable enough with the new established safety procedures and regulations in place to finally go for it.
One of the best decisions I made during the process was getting shop recommendations from people I know. Two of my roommates also went through Boston Tattoo Company for their tattoos and were very happy with the artists, designs and procedures there.
I started with a free consultation with an artist who fit well with the design I wanted. The consultation took off the pressure of finding the correct artist and style I needed, especially since the design was exactly what I was looking for. I was asking for a tattoo of a realistic looking kitsune nine-tailed fox in black and grey, which can be difficult to do.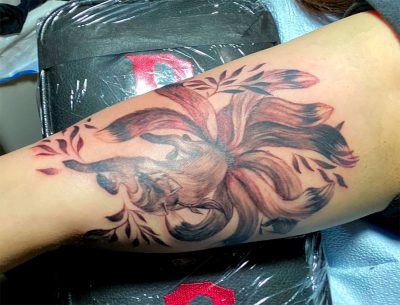 While finding reference photos and coming up with ideas, I was deciding between whether to choose a more minimalist design or complex with a lot of shading.
Most places have at least a minimum cost for a tattoo, which you pay through a non-refundable deposit. This generally encourages people to ask for more complex projects rather than smaller ones, so I knew it would be better to go a little more over the top rather than sticking to something small. 
Though that turned out to be really easy, especially since some artists also charge per hour and more experienced ones have higher rates.
I decided in the end to just go all out since I had no idea when I'd get another tattoo or if I'd even want to get another one. If I did, I'd have different bills to pay in the future. 
You really have to be aware of cost, especially if this is coming out of your own pocket. I knew that my parents would absolutely not contribute to my tattoo. My dad once said that he'd "disown" me if I got a tattoo, but he was most likely in a really bad or bad-joking mood. Though, funnily enough, my mom said she might get one too now.
Other than warning my parents that I'd be home with a tattoo during winter break, I intentionally didn't tell them anything else until I had the final product.
At 2 p.m. last Wednesday, I arrived at Boston Tattoo Company's Somerville location where the tattoo artist showed me the design for the first time and gave me time to make edits if I wanted. 
I didn't. It was exactly what I wanted and looked amazing.
For some moral support, I texted my roommates the design since I wasn't allowed to bring any friends or guests as part of the COVID-19 regulations. Though if they disliked it, I doubt they'd be able to talk me out of it, which I think is really important. There's probably something wrong if someone can talk you out of something that's going to be permanently on your body. 
Thankfully, they loved the design as much as I did, especially because they'd have to see it around the suite for the foreseeable future. 
It's also good that they weren't able to come because I doubt anyone would want to hang out with me getting stuck with needles thousands of times for about six hours. It didn't seriously hurt, but it was a marathon, and I was running on a Starbucks sandwich and an hour-and-a-half of sleep.
In the end, it was completely worth the time, even with the copious amounts of homework and projects I have right now. The tattoo came out great, and I'm shamelessly already looking at what I want next.