I can't drink coffee. That in itself is a major character flaw, but I haven't been able to drink it since I found out I was allergic in sixth grade. 
For some reason, coffee messes with me. I get severe migraines and hives and I can't see in front of me after one sip, so coffee and I do not have the greatest relationship. 
When it comes time for me to place my order at a coffee shop, my repulsion from coffee leaves me with few options. I can go the tea route — a cup of matcha with almond milk or the occasional chai blend — but as those are pretty much the only two drinks I can have, they get old really fast. 
Every fall, when the leaves start to fall off the trees and the air becomes crisp again, I am blessed with my favorite option of all time: Starbucks' Pumpkin Spice Frappuccino.
There's something about Pumpkin Spice Frappuccinos that I just can't help but love. They are a wonderful blend of ice, milk, sometimes coffee, sugar and all the best fall flavors. Topped with whipped cream and a sprinkle of cinnamon, you really can't ask for anything better.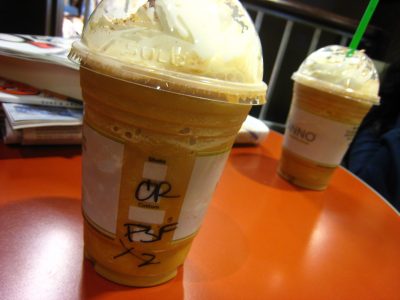 We spend most of the year without the pumpkin spice drinks on the Starbucks menu, and by the time fall rolls around and the drink re-enters our lives, it's all I can think about. My recent obsession has been the beautiful days this autumn where I can sit on the Adirondack chairs on the College of Communication Lawn and enjoy my frozen masterpiece while I people-watch as everyone gets out of class mid-afternoon. It's always the best part of my day.
Given this, you're probably wondering, why is drinking a Pumpkin Spice Frappuccino my biggest character flaw?
First things first, it's not normal to drink five Pumpkin Spice Frappuccinos in five days. That's how many I consumed last week, not counting what I'll consume on the weekend.
Pumpkin Spice Frappuccinos are all overpowering. My eighth-grade self was a bridesmaid in my cousin's wedding. I was so excited to be part of the ceremony and get to dress up all pretty, but what was more exciting to me was the fact that Pumpkin Spice Frappuccinos existed. I made my cousin wake up at 6 a.m. on her wedding day so that she could drive me 30 minutes away to the nearest Starbucks, just to get me my drink. 
In my defense, she got one too, but when I tell you that drink was all I cared about that morning, I mean it. 
I would've been so disappointed if I didn't start my morning with a frappuccino that I just might have refused to walk down the aisle. 
I'm stuck in middle school — when the pumpkin spice trend was in full force. Most of us were in the late stages of elementary school to the early stages of junior high when Pumpkin Spice Lattes had a wave of popularity in 2014. 
Starbucks in general ruled the game at the time, but drinking a Pumpkin Spice Latte bumped you up significant points on the coolness scale. It then became labeled the 'basic' drink, apparently because it was frequented by girls who made it their daily fix at Starbucks. 
As one of those girls now, I can't help but be embarrassed by the fact that I am that basic girl drinking her Pumpkin Spice Frappuccino at 20 years old, and the fact that I still eat the whipped cream off the top of the frappe before I can even begin to enjoy the rest of my drink.
Maybe I'm being overly dramatic and Pumpkin Spice Frappuccinos aren't my biggest character flaw. Maybe I'm actually on to something and the rest of the world is still catching up.  Because whenever I feel like I'm a 13-year-old melodramatic teenager who spends a ridiculous amount of money on a drink just to feel cool again, I just remember that it tastes like a slice of fall heaven, and I wouldn't want it any other way.