I never met my great-grandfather — he passed away when my mother was 2-years-old. But growing up in Pittsburgh as a kid who loved baseball and as a diehard Pittsburgh Pirates fan — as hard as that was at times — I came across him a lot. 
My great-grandfather was Pirates manager Danny Murtaugh, a beloved Pittsburgh legend who brought the Pirates out of the dumps and back to baseball relevance with two World Series rings. In 2021, he's back on the Hall of Fame ballot, and there is no reason this shouldn't be the year he gets in.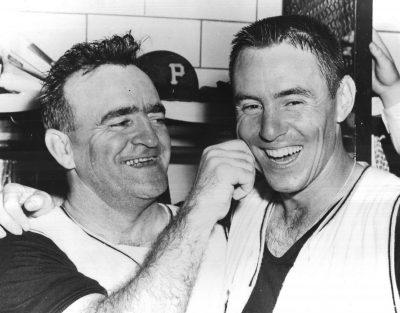 For me, the title of Danny Murtaugh's great-grandson was a claim to fame. If I made a good play in little league, I'd hear how I played like my great-grandpop —  a scrappy hustler who never quit. When I went to Pirates games, I'd look up and see his retired name and number, and his picture in photos and news clippings throughout the halls of PNC Park. At my job as a waiter, I'd tell older customers donning Pirates merchandise about my connection. I remember one older gentleman's awe —  "Wow I can't believe it, Danny's grandson is my waiter," he repeated throughout the meal.
Murtaugh had a short playing career, interrupted by military service during World War II. His transition to managing, however, is where Pittsburgh found its legend. Murtaugh inherited an absolutely abysmal Pirates team. 
From 1950-1957, the Pirates finished in last, or second-to-last, place every single year. In 1957, Murtaugh took over a 36-67 team midway through the season and went 26-25 to finish out the year. The next year he took the team to an 84-70 record, their first winning season in almost a decade, earning him the "Manager of the Year" recognition from the Associated Press in a landslide. Murtaugh received 149 votes — the runner-up had six.
Two years later, he helped deliver the Pirates their first World Series ring since 1925 against Yogi Berra and the powerhouse New York Yankees. His rapid turnaround of the franchise earned him the 1960 "Man of the Year" award from Sporting News.
In 1971, Murtaugh won his second World Series ring as the Pirates skipper, but that wasn't the only accolade of the year. On Sept. 1, 1971 — 24 years after Jackie Robinson first broke the MLB's color barrier — Murtaugh and the Pirates made baseball history by fielding the MLB's first-ever all-minority line-up. The decision received little media attention at the time — even the players apparently barely noticed.
First baseman Al Oliver told MLB.com, "It really wasn't a major thing, until around the third or fourth inning, and Dave Cash was sitting next to me, and one of us said —  'You know, we got all brothers out there, man,'…we really had no idea that history was being made." 
Nevertheless, it was one of the most significant milestones in baseball after Robinson's debut. In Oliver's mind, the game was secondary to the all-minority lineup. "How can anyone forget that night? As far as minorities in sports, that has to be second," he continued. Oliver goes into much more detail about this historic game in his own article on why Murtaugh has earned his spot in Cooperstown. 
Murtaugh's managerial stats are Hall of Fame worthy — he's one of 65 managers in MLB history to tally 1,000 wins — of those 65, he's tied for the 20st highest career-winning percentage. His career-winning percentage of 0.540 is higher than legendary Hall of Famers like Joe Torre and Tony La Russa. In his World Series victories, he defeated two Hall of Famers — New York's Casey Stengel and Baltimore's Earl Weaver.
Pittsburgh baseball doesn't receive a lot of attention these days — their current situation is reminiscent of that early 1950s team, with last-place finishes three years in a row. Murtaugh's inclusion on this year's ballot is a rare opportunity for the team to get more recognition for the franchise's greatest years. Murtaugh's star players — legends like Roberto Clemente and Willie Stargell — have made their way into Cooperstown. It's time for the Hall to give some respect to the leader who helped bring them there.