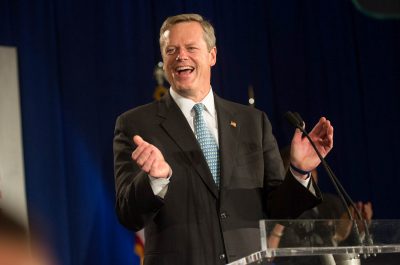 Massachusetts Gov. Charlie Baker announced last Wednesday he will not run for re-election for a third term in the November 2022 gubernatorial election. 
"It was, in fact, a very complicated and difficult decision for a number of reasons," Baker said at a Dec. 1 press conference. 
Massachusetts Republican Party Chairman Jim Lyons said Baker's announcement is likely influenced by former President Donald Trump endorsing gubernatorial candidate Geoff Diehl in October, according to a Dec. 1 press release from the MassGOP. 
"Our party remains committed to the America-First agenda advocated by President Donald J. Trump, and it's clear to me that Charlie Baker was shaken by President Trump's endorsement of another Republican candidate in Geoff Diehl," Lyons was quoted saying in the release.
The Massachusetts Democratic Party Chair Gus Bickford was quoted saying Democrats are "ready to take back the corner office in 2022" in a Dec. 1 press release. 
"Charlie Baker was pushed out of office by his own Party which has completely adopted the tactics and policies of Donald Trump," Bickford was quoted saying in the release. "Geoff Diehl and the Massachusetts Republican Party are offering chaos, division and policies that will drag our state back in time. We believe voters will choose progress in 2022."
No additional candidates have announced a campaign since Baker's address.
Currently, the race consists of Harvard's Edmond J. Safra Center for Ethics Director Danielle Allen, State Sen. Sonia Chang-Díaz and former State Sen. Ben Downing for the Mass. Democratic Party. MassGOP offers Diehl. Kimberly Duffy, Darius Mitchell, Luis Perez, Dianna Ploss, Scott Khourie and Orlando Silvo have each filed to run for office as well. 
Current candidates see Baker stepping down as signaling a change of times.
"It splits the race wide open," said Christina Gregg, deputy campaign manager and policy advisor for Downing. "Anytime you have an incumbent deciding actively to not run again, it marks a real opportunity to get a new era ushered in for urgent, empathetic leadership that both recognizes what the status quo on Beacon Hill has been for so long because of both Democrats and Republicans, and knows tactically how to do something about it."
Chang-Díaz said she is hopeful for a change in authority.
"The people of Massachusetts are ready for a new chapter with new leadership," Chang-Díaz is quoted saying in a press statement following Baker's announcement.
Since Allen entered the gubernatorial contest ahead of Baker's decision to drop out, she said his announcement did not change the race for her "at all." 
"I've been working on this for a year because I was convinced that status quo is not an option," Allen said. "So I'm delighted that Gov. Baker and Lieutenant Gov. Polito agree, they agree that status quo is not an option. So onward, we're making the case for the future we deserve, which is a green and healthy next generation democracy."
Downing will commit to limiting himself to two terms if elected as Governor to encourage new faces and leadership on Beacon Hill, Gregg said. 
"Governor Baker's decision to not run for re-election marks an opportunity to both upend the culture of complacency on Beacon Hill and elect leadership committed to delivering much-needed change to all 351 communities in Massachusetts," Downing is quoted saying in a press release following Baker's announcement. 
Baker stepping down ultimately provides a clean slate for new candidates to win the Governor's seat.
"We're going to have a really strong primary debate in the Democratic field, which is really great for civic engagement in Massachusetts," Gregg said. 
Candidates like Allen view the campaign trail ahead with pride.
"Let me say I'm really proud to be a part of a diverse field of candidates," Allen said. "It's exciting."
Gregg emphasized the impact of young voters in deciding who will be the next governor.
"In this campaign, it's not that they should be heard in this race, they will be heard in this race," Gregg said. "It's really up to candidates to center youth and young people in their campaigns and make sure that their policies and their agendas reflect the needs and desires of those people."
Diehl could not be reached for comment by the time of publication.