With 1:03 to play in regulation, senior guard Jonas Harper hit a 3-pointer to give Boston University a 10-point lead and subsequently a win over the University of Massachusetts Lowell River Hawks. As light snow descended in Boston on Wednesday night, the Terriers (8-3) defeated the River Hawks (6-4), 72-62. 
Coming off of a 68-63 win over the Binghamton Bearcats Saturday, the Terriers began their first possession of the game with a shot clock violation.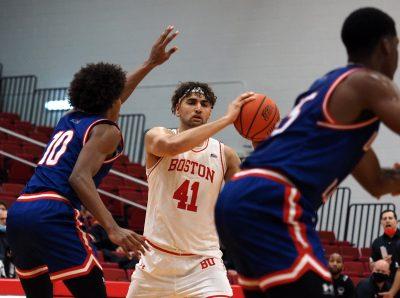 "We're just turning the ball over way too much to be a team that we want to be," head coach Joe Jones said postgame. "We've got to make some improvements in that area."
Jones said he was impressed with the bench's performance and pointed to their plus/minuses. 
"I think they did a great job," Jones said. "[Caelan Jones] was +10, Anthony [Morales] was +14, Garrett [Pascoe] was +11, so our bench really impacted the game tonight."
Lowell junior guard Kalil Thomas made two 3-pointers with five minutes left to play in the second half that cut the Terriers' lead down to six. Then, with about 2:30 to play, Thomas made two free throws to cut the BU lead down to five. However, BU grad student forward Sukhmail Mathon made two free throws on the other end of the floor, and the Terriers would not look back. 
"I was just trying to stay composed, just knock down my free throws," Mathon said postgame, "and then just worry about the defensive end on the way back."
Three River Hawks contributed most of the team's scoring on Wednesday night, as both senior guard Everette Hammond and Thomas each scored 16 points, and grad student guard Justin Faison added 11 in the loss.
Harper led the way for the Terriers with 17 points, with grad student guard Javante McCoy and Mathon each adding 14. Jones said that he thought McCoy could have played better. 
"I thought Javante [McCoy]'s decision-making needed to be better for a player of his caliber," Jones said. "He needs to be better. They did a good job on him, made it hard for him, but I thought he was able to get to spots on the floor when he needed to. I thought he had a pretty strong first half, and I thought in the second half he got worn down."
The Terriers will head to Hanover, New Hampshire, to face Dartmouth on Saturday, Dec. 11, before hosting Marist on Saturday, Dec. 18, at Case Gym.