For the past two Christmas seasons, almost every child in my family was given Squishmallows — the ultra fluffy, super soft and absolutely adorable stuffed animal toy.
Last Christmas, I bought an orange and a green apple Squishmallows for my younger cousins and then bought a couple for myself.
While I thought having three Squishmallows at age 19 was quite the flex, thousands of other Squishmallows enthusiasts have boosted its popularity with larger-than-life collections.
Squishmallows, owned by Kelly Toys Holdings LLC, was introduced in 2017 and currently has more than 1,000 plush characters.
The plushies range from 3.5-inch clip-ons to an extra-large 24 inches, according to the brand's website. Squishmallows come in assorted styles, such as those with flat bottoms and tops for stacking and some that can flip inside-out. 
Some Squishmallows have reasonable pricing and are accessible to anyone. However, many rare Squishmallows can be listed for upwards of hundreds or thousands of dollars. I have seen a plush go for $2,000 without the shipping cost included.
I asked my sister what her favorite Squishmallows was, and she said it was the Reina the Butterfly/Archie the Axolotl Flip-a-Mallow. While she bought hers for $15, some are selling online for over $135 on e-commerce sites like Mercari and Etsy.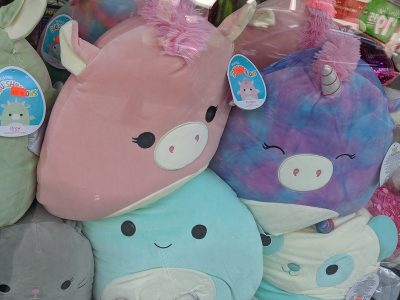 Usually, she can find Squishmallows she likes at reasonable prices at stores like Five Below. Retailers like Costco, Claire's and CVS carry exclusive lines of the plush toys. My sister and our cousin searched multiple times at Costco to find the Hello Kitty collaboration Squishmallows.
Part of the collectibility and fun of Squishmallows is the expansive online and in-person communities that have formed around the furry, marshmallowy polyester fiber-filled toys.
The stuffed animal brand has been trending on social media platforms including TikTok, a platform aimed towards young children as well as teenagers and young adults. TikTok videos with the hashtag "#squishmallows" have garnered over 2.3 billion collective views, and videos with the niche hashtag "#squishtok" have over 780 million collective views.
TikTok accounts run by young teenagers and adults show videos of oversized Squishmallows collections. People will host meetups and do Squishmallows trades to get the ones they need to complete their Squishmallows squads.
For people who aren't collectors or don't understand the appeal of just an ordinary looking stuffed animal, the key aspect of Squishmallows is the wide variety available.
Because Squishmallows are sold in over 30 different stores and at many different price ranges, people are bombarded with the omnipresent plush wherever they go.
The keychain Squishmallows are portable and travel-friendly, while the extra-large Squishmallows sit perfectly pretty in beds, shelves or even hammocks.
In addition, Jazwares launched a Squishmallows game on the equally skyrocketing company Roblox, an online gaming platform catered towards children and young teenagers.
The game, titled simply as "Squishmallows" was released in November 2021 and currently has over 4.4 million visits. According to the Roblox page for the Squishmallows game, players collect and trade various Squishmallows, make friends on the server and customize an in-game home. 
It is a hidden factoid that I am an avid user of Roblox. And yes, I played the Squishmallows game. It was very enjoyable.
Everyone in my family has at least one Squishmallows. My personal favorite is my Celeste the Blue Bear Hug Mees Squishmallows, which is a stretched-out version of a regular round Squishmallow.
Owning different styles of Squishmallows means some can be displayed, while others can be used as pillows. 
The continued releases of new Squishmallows only furthers their popularity and frenzy. As long as they keep coming, Squishmallows fans will keep collecting.