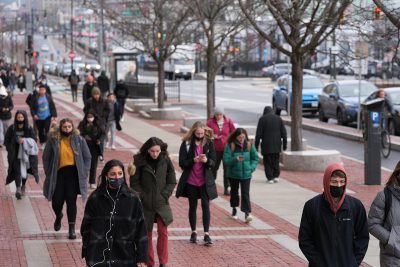 Students in the Boston University School of Public Health expressed discontent with the administration's decision to remain fully in-person this semester, despite a high rate of positive COVID-19 cases, in both an open letter to SPH dean Sandro Galea and an online petition.
The letter called for SPH to either reinstitute the LfA policy from the 2020-2021 school year — which allowed students to attend classes either in-person or remotely— or start the semester remotely and then reassess the situation after two weeks based on the number of positive cases. 
"The best environment for learning is not, and never has been, one where students are actively fearing for their health in order to receive a top level education," the letter states.
BU's positivity rate ranged from 0.3% to 0.5% in previous semesters but has drastically increased as of late, reaching a record high 12.69% on January 8. 
The letter went on to state that while the decision to reopen last Fall was made when COVID-19 case counts were at an "all-time low", the same cannot be said for the Spring semester.
"Comparing our safety data from the Delta variant to what is going on now with Omicron is like comparing a wave to a tsunami," the letter states.
In response to the open letter, Galea wrote the health risks from contracting the Omicron variant are minimal, citing data reported in the New York Times to back up the decision to go fully in-person. 
"These decisions are made keeping in mind two key principles," Galea said. "One is wanting to keep the community safe, and number two is to deliver excellent education."
Galea stated in his response he stands by the University's decisions, though noting they are "in no way easy or straightforward."
"Having reflected about this quite a bit, having consulted with public health colleagues at our university and beyond who also have been thinking about this for two years now, I think this is the right approach," he said.
On the other hand, SPH graduate students also put together an online petition and gathered over 400 signatures as of Jan. 18 urging, as "teachers and researchers", for BU to change its COVID-19 mandates for the Spring semester.-person-person
The petition, posted on social media forums like Reddit, called for providing Personal Protective Equipment for instructors, researchers and staff, allowing instructors to teach remotely at their discretion and providing social-distancing options for in-person classes.
Jordan Pickard, a third-year doctoral student in the Graduate School of Arts and Sciences and one of the students behind the petition, said she believes previously implemented hybrid learning options provided avenues for students and faculty who were immunocompromised.
"We don't understand why, at this moment of unprecedented cases, they've taken away this option from people who are at the highest risk," they said.
BU spokesperson Colin Riley said the decision to continue in-person learning for the Spring semester was bolstered by its effectiveness last Fall, adding that although cases have spiked since the discovery of the new variant, Omicron "appears not to be as severe" as its predecessors. 
"The most important thing is there are tens of thousands of students who are able to matriculate because of these decisions on behalf of the senior administration," Riley said. "They're doing what they believe is in the best interest."
Jack Rubinstein, a masters student in SPH who joined several other students in drafting the open letter, said though he disagrees with SPH and BU's approach, he believes Galea's reply was "incredibly respectful."
"Public health is a somewhat imperfect science, there is no one right answer," he said. "While I disagree with the approach of the School of Public Health and BU in general is taking, I do respect that it is a more optimistic approach than I would take."
But some students reported apprehension and worry over BU's handling of the increasing positivity rate, especially concerning the University's quarantine procedures. 
Trinity Rieck, a freshman in the College of Arts and Sciences, said she caught COVID-19 shortly before returning to campus and was surprised to find out that BU placed her with a roommate while in isolation. 
"Even if there are separate bedrooms, you still have to share a kitchen, you probably have to share a bathroom," she said. "I don't think that that's a safe idea."
CAS senior Ianeth Sanchez said she disagrees with the decision to lower the isolation period from 10 to five days. President Robert Brown announced the change early January following official guidance from the Center for Disease Control.
"We're going to continue prolonging the problem if we keep minimizing it," she said. "I don't think that was the best call. I think 10 days of isolation is enough."
BU administration has also been distributing four free KN95 masks to students, faculty and staff at testing centers as part of its new strategy to curb the spread of the virus. BU is also requiring undergraduates to test for COVID-19 at least twice a week, an effort to reduce the spread. 
Pickard said BU did a good job in implementing these policies.
"BU has done some things that have worked very well in previous semesters," they said. "I'd like to see them continue operating with that level of vigilance, or more, rather than decreasing that protocol prematurely."