Amid uncertainties surrounding the start of the Spring semester, Boston University's Campus Activities Board put together a welcome event for new and returning students to ease the transition back into campus life.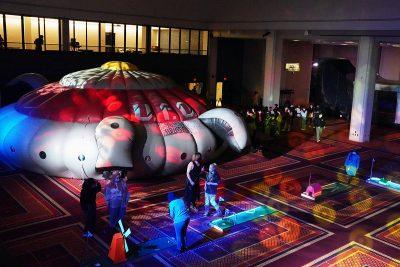 Frostival, which took place on Jan. 23, was situated in the George Sherman Union Metcalf Ballroom and the adjoining Ziskind Lounge. The event formed part of BU Student Activities' Winter Weeks of Welcome, which started on Jan. 14 and will end on Jan. 28., and included an inflatable ninja warrior course, an inflatable laser tag arena, an LED mini golf course and a make your own soap station.
There were also two activities hosted by BU's Art Club — a DIY snow globes station and pop up cards station.
Flora Tsui, a senior in the College of Arts and Sciences and president of CAB, structured the event in a way that helps new and returning students mingle and immerse themselves into BU life and culture.
"I understand that it's hard for everyone to come back from COVID, especially the freshmen that are new this semester," Tsui said. "So being able to just meet people and be in that environment, that kind of simulates more of what a normal semester would look like."
CAB hosts a Weeks of Welcome event for the Fall and Spring semester with preparations for Frostival starting in October. The event originally included food for those who attended but the COVID-19 pandemic hindered those plans, Tsui said.
"We were gonna have popcorn and cotton candy along with nachos but then because of new COVID policies, we weren't allowed to have that," she said. "So that's also taken out of the equation."
As part of the Frostival event, students were handed CAB's trademarked goodie bags consisting of different facemasks, hand warmers, a squishy toy, a winter style temporary tattoo, a Frostival sticker, chapstick and rainbow scratch paper.
Kevin Wu, a freshman in CAS who attended Frostival, used the opportunity to play laser tag and spend time with friends after Winter break.
"I wanted to come because I wanted to reconnect with my friends," Wu said. "I haven't seen them for a while so I figured this was a good time."
Another attendee, Susan Chen, a first semester freshman in the College of General Studies, took a particular interest in the inflatable ninja warrior course.
"[Frostival] is wonderful," Chen said. "There is a lot of stuff to do and I like the bouncy house because you're exercising and it's a lot of fun with friends."
CAB faced a number of obstacles leading up to Frostival, including dealing with new COVID-19 policies and coordinating with the event's partners, Ruby Maute, a junior in the College of Communication and vice president of CAB, said.
"We had to be flexible with how we planned for the event and what we wanted it to look like," Maute said. "So many things can go wrong… so it's exciting when the event finally comes together."
The Winter Weeks of Welcome will come to an end on Jan. 28 with BU Student Activities hosting the Winter Bash — a dance party held from 8 p.m. to 11 p.m in the Metcalf Ballroom.