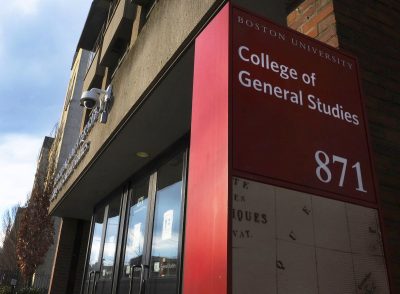 Boston University opened the doors once again to its newly refurbished Fenway Campus following an overenrollment of College of General Studies students this Spring semester.
The recently matriculated CGS class has become the first batch of students to be housed in the new complex, located near Time Out Market, since its reopening — complete with a dining hall, gym, shuttle service, courtyard and study lounges.
There are no classes being held on Fenway Campus. Some students noted difficulties commuting to classes a little under a mile away in Central Campus and socializing with students not in CGS, but many held a generally positive impression of the facilities and campus community.
Stacy Godnick, associate dean for student academic life, said the Fenway Campus is currently home to half of the 718 CGS students who matriculated this month. The class size is greater than BU's enrollment target of 600 by 19.7%. 
BU's Fall 2025 class was overenrolled by over 1,200 students, comprising a total class number of 5,300 students compared to a total of 3,100 students last year. In a Dec. 8 interview with The Daily Free Press, President Robert Brown said the increase in class size was not intentional and the University is "working hard not to have it happen again."
BU spokesperson Colin Riley said it is not unusual for enrollment to fluctuate and the Fenway Campus reinforces the feel of CGS as a "small cohort college." 
"It certainly has a strong sense of belonging in its own right," Riley said. 
Godnick said BU added a new shuttle bus line that goes to and around the Fenway Campus and that the University distributed MBTA semester Link Passes free of charge to help students residing in the area make their way to and from each campus. 
However, some students noted the shuttle service needs some improvement.  
CGS freshman Camille Sandage said it can take between 20 to 30 minutes to commute to the Charles River Campus, and up to 40 minutes if the bus is late.  
She said she would rather be close to Central Campus if she had the choice, adding living on Fenway Campus would be "excellent" if the bus was consistent. 
"It's just so hard to get there and all my classes are in Central Campus," Sandage said.
CGS freshman Shruti Goyal said her and her friends occasionally use a ridesharing app to avoid the longer commute of walking or using the T.
"Sometimes, me and my friends will split an Uber, because it's a $10 Uber, so it's two dollars per person, and then we'll get there in like 10 minutes," Goyal said.
CGS freshman Julia Wesinger said she thinks she'd prefer to live on Central Campus because of the wider variety of facilities and chance to interact with non-CGS students.
"It feels a little isolated over here," Wesinger said.
CGS freshman James Thompson said he does not mind his commute to the Charles River Campus and likes having suite-style dorms. 
"The Fenway Campus is really nice," Thompson said. "It's really nice having suites and having so many people in your room and also having a common area."
For some, the exclusivity of the Fenway Campus helps foster closer bonds between CGS students.
"I feel like on a campus where things are decentralized and spread apart, it's hard to find a sense of community," Sandage said. "It's nice that everyone has a common ground here."