Spring semester has officially started, and with it, the cold weather has taken over the city of Boston. I arrived a week ago to a freezing apartment on a dark Boston day. I cuddled up in my unmade bed and made myself a cup of peppermint tea to soothe my body. 
Over winter break, I spent most of my time outside taking in the beautiful winter weather in Florida. I'm not sure I can really call the 60 and 70 degree days in Florida winter, but to us Floridians, it is. When the temperature drops below 70, everyone brings their winter boots and long sleeve shirts out to play.
I'm not going to lie, coming back to school was harder than I thought. When I am home, I miss Boston so much, especially as I readjust to my life in Florida. As time goes on, though, I feel the comforts of home and my bed. I remember the feeling of being with my family everyday and the serenity I feel as I watch the sun rise with my sister Vicki.
Going back home, I realized how much I missed it and how safe and comfortable it felt to me. Upon arriving in Boston, I called my sister and mom so many times as I waited for my  roommate to arrive. She came a day after I did, so I slept in the apartment alone the first night. 
I must admit, sleeping alone on Bay State Road is a bit ominous, especially when it gets dark at just 4:50 p.m.. 
A day went by, and that part of me that missed home was still there. I couldn't pinpoint why I felt this way, but then I realized I didn't need to know. All I needed to know was that everything would be okay, and it would all work out the way it's meant to. 
It's normal to feel down at the beginning of the semester, I promise. It's normal to feel off because everyone is going through something and readjusting to life in Boston. Remember to focus on little things that bring you joy. Focus on what brings you peace and happiness.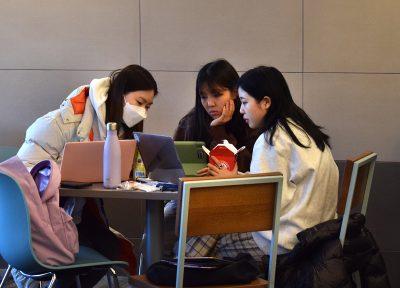 Here are a few tips that have helped me stay positive: 
Start the day with happy music
Music, at least for me, brings me joy when I need it. When I wake up, I play a song that makes me excited for the day and motivates me to get out of bed. I know how hard it is to get out of bed and make it to your 9 a.m. class, so this will hopefully give you a boost.
Walk as much as you can
Although freezing, the cold air wakes you up. I have been walking everywhere recently, and I feel awake and ready for the day as I walk down Comm Ave. Take a stroll to your class that is a 20-minute-walk away rather than taking the T. You won't regret it, I promise.
Watch a comforting TV show 
Put on a sitcom! "Friends," "New Girl" or any show that makes you happy. Get in bed, snuggle with a blanket and let yourself become immersed in the story — ready to welcome the good vibes of the comforting show. 
Spend time with friends
Being around people and experiencing their energy is a game changer. When I'm alone for too long, I feel drained. But when I'm with my roommate or my wonderful friends, I feel happier and well-rested. It's easy to lock yourself in your room and not come out, but opening the door and talking to others will make you feel so much better. 
Focus on gratitude and hope
Those negative thoughts find their way into our minds too easily. It's normal for them to come and go, but focus on the good in your life. Focus on five things you're grateful for everyday. We are beyond lucky to be at BU and have the friends that we do.
Take yourself out for coffee and explore
I used to fear dining alone because it made me feel lonely, but now I realize it is powerful — it demonstrates self-assurance and confidence in ourselves. So, go to Newbury Street and check out the Trident Booksellers & Cafe or the Thinking Cup coffee shop. 
I recommend the chai latte at Thinking Cup or the home fries at Trident.
Organize and plan your school week
School is stressful. We all know it is, but it doesn't need to take over your being. It doesn't define you — it's only a part of you. Plan your week so you know what to expect. Make things happen for yourself. I believe in you!