A new exhibition, "Life Altering: Selections from a Kansas City Collection," featuring works that reflect social issues including race, identity and climate change, recently opened its doors at Boston University's Faye G., Jo, and James Stone Gallery.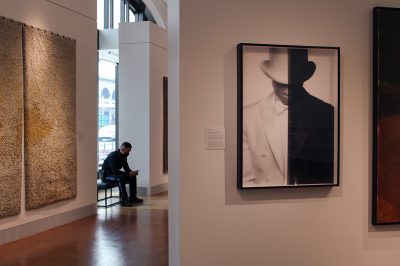 The exhibition, which began Jan 18. and ends March 1st, presents artwork from Bill and Christy Gautreaux — both avid art collectors — after Bill started collecting art 25 years ago when he noticed a lack of representation in the art world, Lissa Cramer, managing director at Boston University's Art Gallery, said.
"He noticed that there was a gap in our art historical canon," Cramer said. "Art history typically favors the old white man."
Gautreaux set out to curate a collection of work that reflects the diversity of artists and their creations, with pieces coming from different backgrounds and experiences, many of whom pay homage to their culture and identity through their art.
Cramer, who oversaw the curation of the exhibit, said the exhibit features 23 different works from Gautreaux's collection.
"There's no theme to this show, each work has its own theme," Cramer said. "Each piece has its own social justice component, and one of the best things about being in my role is that I get to sit back and let the artists be the ones that drive the social justice movement."
One piece, a sculpture called "Tightrope, Familiar Yet Complex 1" created by Ethiopian artist Elias Sime, explores climate change and the importance of balancing the benefits of technology with its environmental impact, said Cramer.
Another piece called "Collector of Shouts," created by Dominican artist Firelei Báez, explores how identity is built, with the painting taking inspiration from the artist's own image.
Cramer adds how Báez experimented with the type of paper for the painting to create a textured look.
"It's painted on yupo paper," she said. "Yupo paper can absorb watercolor just fine, but then when you put any other paint on it, it doesn't soak in."
Hannah Lee, a sophomore in the Sargent College of Rehabilitation Sciences and an attendant at the gallery, said she really enjoyed Báez's artwork because of the attention to detail.
"I just love the color scheme and just the way that it pops out at you," Lee said.
Ashley Davis, a freshman at Northeastern University, said the piece that stood out the most to her during her visit to the gallery was the photographic self-portraits from Zanele Muhole — a South African artist who expresses their queer and Black identity through their work.
"I was surprised about all the different, I wouldn't necessarily say categories, but it covers a broad spectrum of all the topics that are going on right now," she said.
Emma Schmidt, a gallery assistant and junior in the College of Fine Arts, said she was glad students had the opportunity to visit an art gallery on campus because there are "high-demand contemporary artists that are part of this show."
"The fact that this is a free gallery and it's on the first floor of the College of Fine Arts, this is such a great opportunity and I think everyone should be stopping by for every exhibition," Schmidt said.
For Cramer, the gallery is an opportunity to emphasize the importance of social justice.
"Art is loved by everyone, everyone can enjoy this," said Cramer. "All I am doing is opening the door for someone else's voice and that is very important, it can't just be one person leading the charge."