After 22 years of professional football, seven Super Bowl rings — more than any single NFL franchise — 84,520 passing yards, 7,263 completions and 15 Pro-Bowl selections, the career of the greatest quarterback of all-time has come to a close — or has it?
Saturday afternoon, ESPN NFL Insiders Adam Schefter and Jeff Darlington reported that Tom Brady would be "retiring from football after 22 extraordinary seasons." Amid a historic blizzard in the region where the quarterback began his career, the news created a storm of its own within the world of sports.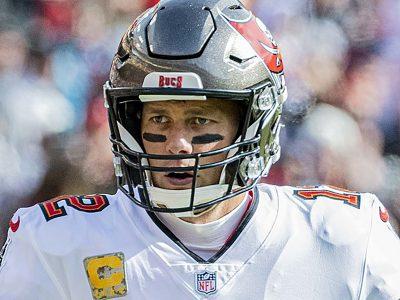 Tributes and messages from sports personalities began pouring in, with people looking back on Brady's legendary career and reflecting on what the quarterback meant to them. 
Strangely, though, this same revelry was absent from the social media feeds of a select number of key figures in Brady's orbit. It's clear that Schefter's report came out before Brady was ready to make the announcement. But I, probably like many others, believed that Brady would eventually release a video, a press release or something else to confirm the report. However, as of now, that response has not come. 
What has come out are reports that Brady hasn't made a decision about his retirement. 
Tampa Bay Buccaneers head coach Bruce Arians and general manager Jason Licht told reporters that Brady hadn't told them he was retiring. And Brady's dad, Tom Brady Sr., told NFL Network reporter Mike Giardi that "Tommy has not made a final decision one way or the other."
So, what is the truth here?
Michael Holley – NBC Sports Boston anchor and Boston University professor — told me "there's no doubt in my mind that he's retiring." 
Holley said that the likely scenario is that "the story got out before [Brady] was able to control the message."
Brady, as Holley noted, is increasingly expanding into the content space, releasing projects like "Tom vs. Time" on Facebook Watch in 2018 and "Man in the Arena" on ESPN+ in 2021. 
"Adam Schefter and [Jeff] Darlington are doing journalism, and Tom Brady is disappointed that their journalism is getting in the way of his content," Holley said. "As a reporter, sometimes you break news that's inconvenient for people, it makes people uncomfortable, but you've got to do it anyway because that's the job."
 We may have to wait a while before Brady crafts an official statement announcing his retirement. But, at the moment, it seems whatever time he takes only delays the inevitable. 
This move was something fans felt was inevitable for a long time, but after the Buccaneers' loss to the Los Angeles Rams in the Divisional Round, it seemed more likely. 
When Will Hanley – Boston University freshman and lifelong Patriots fan — heard the news, it didn't come as a major shock to him. 
"I didn't exactly have a visceral emotional reaction at first, and maybe it was because I had already reconciled with the fact that this was probably it for Tom," he said.
Caleb Stine, another longtime Patriots fan and BU freshman, said, "I was more surprised about how it was so recent from him getting eliminated…it was kind of on the horizon for a long time."
Holley said he knew the moment was coming too.
"I didn't know when it was going to happen, but I expected it to happen," he said. 
Having covered him extensively throughout the years, Holley sensed a shift in Brady's tone after the loss to the Rams. 
"I have seen and conducted and heard multiple interviews with Tom Brady. So when he started talking about his future when the season ended, I said, 'this doesn't sound like the guy that I've heard for 20 years,' something's a little different now." 
The Buccaneers' loss to the Rams on Jan. 23 will likely be the end of, arguably, the greatest career in American professional sports. 
We'll probably all spend the rest of our lives reminiscing about Brady's career and arguing over whether or not he was the greatest. 
Stine says what he'll remember most from Brady is his reliability. 
"The games where we'd be down by 14, 21, 28 and I wouldn't be that worried," Stine said. "There's just that belief that I've never had with any other athlete." 
The stability found in Brady's throwing arm is a singular quality only possessed by a handful of legendary athletes – Steph Curry's three-pointer and David Ortiz's playoff swing come to mind. 
As a journalist covering Brady, Holley says he'll remember that Brady as a leader was just as legendary as Brady as a player.
"Everybody knows about the elite playing, what I don't think people really grasp is the elite leadership on the field and off," Holley said. 
Holley said this leadership was best demonstrated by Brady's ability to manage having teammates who watched him in high school and were in awe of the legend they shared a locker room with. 
"He's traveling with these people who are younger than he is, and a lot of times they come in wanting to put him on a pedestal, and he works very relentlessly about knocking the pedestal down. 'You can't put me on a pedestal and be my teammate'," Holley said. "I know he's the best player I've ever seen, regardless of sport, but he's the best leader I've ever seen."
The debate over the G.O.A.T. will likely continue on every sports talk show, with incessant "is quarterback X better than Brady?" segments from now until the end of time. 
But let me say this now — Tom Brady's rise from the 199th pick in the 2000 NFL draft to now leaving the league wearing more Super Bowl rings than any one NFL franchise will never be repeated and will never be matched. 
We should all be forever grateful we were here to witness it.