There are a total of eight public art pieces listed as having "Unknown Artists" on Boston University's Charles River, Fenway and Medical campuses.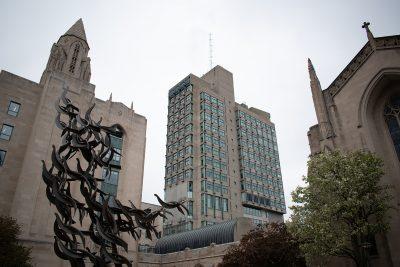 Some of the mysterious pieces include a cat-like figure partially hidden behind the bushes outside of the College of General Studies building, a stone carving above a Fenway Campus library door depicting historic German educator Friedrich Froebel and a stone bust on the Medical Campus.
It's unclear where they came from or who put them there in the first place, but in an effort to find out, the BU Arts Initiative launched a website in 2019 to help unravel the mystery.
The website details the locations and the artists of many public art installations on the three campuses. Kimber Chewning, an art history PhD candidate at BU, was hired to uncover and document the history of the public artwork.
"There wasn't a centralized place where you could see who commissioned this work, why it's in that specific location, why it looks the way it does," Chewning said. "Those are all questions when you're thinking about public art that seem important."
Most of the information on the website is a result of roughly six months of research conducted by Chewning. Due to the lack of formal records on the installations, Chewning was unable to pinpoint the origin of eight art pieces, with the project coming to an eventual close.
"If you don't have anything to start with, it's not going to lead anywhere," Chewning said.
Nonetheless, despite the research project being closed, the BU Arts Initiative is still asking for anyone with information to come forward.
Ty Furman, managing director of the BU Arts Initiative, said he thinks some answers could be found among members of BU's community that have "long institutional memories" and "have been here for a while."
"Just because I don't have it on the web page doesn't mean somebody somewhere doesn't know," Furman said. "We just haven't uncovered that."
The art pieces that managed to reconnect with their history as a result of Chewning's research include sculptures created by artist Sergio Castillo on the Charles River Campus. Castillo is responsible for "Free at Last" — a Martin Luther King Jr. Memorial on Marsh Plaza — and "Explosions" — in front of the Metcalf Science Center.
According to the BU Arts Initiative webpage, Castillo's "Free at Last," named after Dr. King's famous "I Have a Dream" speech, is the first Martin Luther King memorial to be erected in the United States.
The 20-foot-high sculpture includes 50 individual birds representing the 50 states, which come together to form a figure of one large bird.
"He [Castillo] and John Silber [former BU President] had a good relationship," Chewning said. "So there's actually quite a bit of information about those pieces."
For those who may be able to provide further information on the mysterious origins of the eight public art installations around BU's campus, a visit on the website under the "Public Art" section will direct you to get in touch with artsinbu@bu.edu.
For Chewning, the call for more details about the works of arts creates the possibility of a more "cumulative project."
"A dream would be if someone saw the website and could fill in some of this information," she said.