Despite standout performances by freshman guard Alex Giannaros and junior guard Sydney Johnson, the Boston University women's basketball team fell short against Lehigh University on Saturday by a final score of 68-65.
The loss is the Terriers' second in conference play this season and is their first loss at home since Nov. 2021. The team's first conference defeat also came against the Mountain Hawks (15-6, 7-3 Patriot League) on Jan. 22.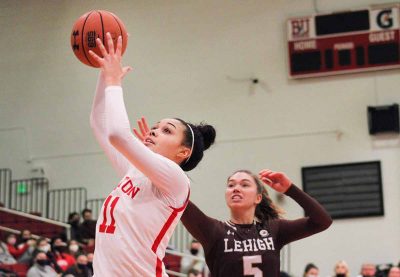 The Terriers (13-9, 9-2 PL) fell to second-place in the conference with the loss.
BU had just eight players available during its last bout against Lehigh, but Saturday's game saw a near fully healthy roster for the Terriers, and a closer final score compared to Lehigh's 79-67 win on Jan. 22. 
"I hope we get to see them again in the [playoff] tournament, too, because I know this team is really pumped to play them," BU head coach Melissa Graves said postgame regarding the team's attitude towards the Mountain Hawks, who have been BU's only kryptonite within the Patriot League.
BU struggled to score for the first 3:36 of the game, shooting 0-5 from the field before Giannaros put the Terriers on the board. She led all scorers with 22 points and four three-pointers, nearly tying her career-high of 24 points in a game.
"[Giannaros is] just playing really confidently," Graves said. "She's put in a lot of work with the coaches. . . I'm really proud of that kid. She's doing a good job. She's earned her starting spot."
Johnson was second in scoring for BU, posting 19 points to extend her double-digit points streak to 11 games. Lehigh senior guard Megan Walker also posted a team-high 19 points after sinking eight of her 13 shots from the field.
Following a low-scoring first quarter, both teams picked up their offense. The half finished with BU leading 39-36 after the Terriers scored six of seven baskets from three-point range in the second quarter.
After falling behind 60-54 by the end of the third quarter, BU managed to shrink the deficit to one point on a free-throw by Johnson with six seconds remaining in the contest, but Walker knocked down two free-throws from the line to bring the Mountain Hawks lead back to three.
A long-range step back effort to tie the game from Johnson fell short of the rim as the buzzer sounded, finally sealing the victory for Lehigh.
The Terriers' spotty defense and struggles from the free-throw line in the first three quarters put them in a hole they ultimately couldn't climb out of.
"To give up 23 and 24 points in the second and third quarter, it's hard to win that way," Graves said. "We just got to do a better job of blocking for the full 40. It can't be when the game's on the line that we decide to show up. I wish we would've made some more free throws today too. I think that hurt us."
Despite the team's defensive struggles, Graves gave her post players, junior forward Maren Durant and sophomore forward Caitlin Weimar, a shoutout for their defensive play. Durant led BU with 15 rebounds, 11 of which came on the defensive side, and Weimar added 11. Durant also rejected three Mountain Hawk shots to overtake Adrienne Norris for seventh place in career blocks for the Terriers.
Approaching the final stretch of the regular season, Graves emphasized maintaining a positive and driven mentality as key.
"I told them to keep their heads up," Graves said. "Our goal is still to try to host every game in the Patriot League tournament."
The Terriers will look to get back to their dominant conference play in West Point, New York against the United States Military Academy on Wednesday at 6 p.m.