Super Bowl weekend is finally here! That means one more week of betting, football and tailgating before six long months of waiting. One last chance to become a millionaire from that +10,000,000 parlay you're positive will hit.
Best Bets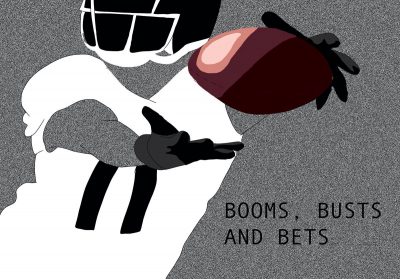 (Using FanDuel Sportsbook odds at time of writing. Disclaimer: Picks are merely the opinion of the author. Gambling involves financial risk. The author is not responsible for losses incurred from gambling.) 
National Anthem Length: Over 95 Seconds
This has to be the greatest thing to bet on at the Super Bowl. I'd slam the over for two reasons. First, the Super Bowl is one of the biggest stages in show business and this is the artist's time to shine — Super Bowl national anthems almost always eclipse the 95 second mark. Second, I personally tested this by singing the anthem and hit 103 seconds. Over.
Cincinnati Bengals Alt Spread +7.5 + Los Angeles Rams ML -198 (+245)
The Rams have all the star power in the world in this match. With Matthew Stafford and Cooper Kupp on the offense and Aaron Donald and Jalen Ramsey locking down the defensive side, at their home venue no less, the Rams have no reason to walk away with the loss. But Joe Burrow isn't going to get blown out. He'll keep it within a TD.
Joe Burrow: Over 24.5 receptions (-108)
The Bengals know they can't shy away from the air attack if they want to win this game. They'll attack early and continue attacking till the end.
Joe Burrow: Over 1.5 Passing TDs (-154)
Same logic as the receptions. Joe Burrow will attack.
Van Jefferson: Anytime TD Scorer: +300
The Bengals secondary has its work cut out for them on Sunday. Mike Hilton is an underrated slot corner and should definitely help to limit the Rams' productivity in that portion of the field. But with focus on Kupp, Odell Beckham Jr. and Cam Akers, the Bengals might lose sight of the deep threat of Van Jefferson and let him slip past for a TD.
Correct Final Score: Rams 27 – Bengals 23 (+12000)
Not a lot of thought goes into a correct score bet — it's really just a shot in the dark. 23 points — a pair of TDs and three field goals — makes sense for the Bengals team though.
Matthew Stafford Over 281.5 Yds + Joe Burrow Under 276.5 Yds + Cooper Kupp Over 105.5 Yds + Tyler Boyd Under 39.5 Yds (+750)
I think Matthew Stafford has too many weapons to not hit the over against the Bengals. Kupp has not slowed down a single game this season. Burrow, on the other hand, will be facing Ramsey, Donald and Von Miller… he might have more issues.
Cam Akers 1st TD Scorer (+650)
The Rams might prefer passing but they have a solid rushing attack and will look to get that established early. If they drive down the field in their first possession, I could see Sean McVay switching to the ground game to punch it into the endzone.