After a 36-4 finish, the best winning percentage in program history, and a Patriot League championship last season, the Boston University softball team is ready to enter the 2022 season stronger than ever.
"I'm excited," head coach Ashley Waters said, who is entering her seventh season in the position. "We know that we're going to get challenged early on and I think for us, answering that call, but preparing ourselves for conference play. The end goal is to win the Patriot League title."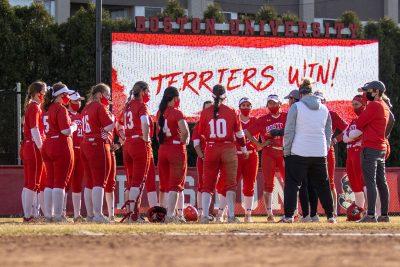 Waters signed a multi-year extension with BU in December. The two-time Patriot League Coach of the Year has led BU to three consecutive Patriot League championships, four trips to the NCAA tournament and an impressive 179-103 record since she joined the team in the summer of 2015.
"I love being at BU," Waters said. "I just feel fortunate to come to work every single day and work with this caliber of student athletes. These kids are incredible so they make my job really easy just because of who they are."
Waters noted how the COVID-19 pandemic and pandemic-related mandates caused certain difficulties throughout the 2021 season. One roadblock was the inability to travel out of the region, according to Waters.
In the 2021 season, the team batted a program-record batting average of .320 and posted a 1.26 earned run average, which ranked second nationally. Luckily for the Terriers, the team is retaining a majority of their players from last year.
Among those returning include 2021 Patriot League Player of the Year and junior infielder Caitlin Coker. Last season, Coker posted 43 runs, 17 RBIs, and a .403 average as the leadoff batter. 
Also returning is 2021 Patriot League Rookie of the Year and sophomore infielder Lauren Keleher — who put up a .339 batting average last season. Graduate outfielder Jen Horita will also rejoin the team. Horita recorded a .452 batting average in 2021, which ranked 13th nationally.
"This might be one of the most potent offenses we've ever had," Waters said. "Top to bottom we have a legit nine and then go beyond that, maybe a 10 and 11 who can really contribute on the offensive front."
Senior two-way player Emily Gant, who had an impressive 2021 season with a .391 batting average and a 1.18 ERA, and senior pitcher Allison Boaz, who went 5-0 with a no-hitter against Merrimack University, also remain on the roster for the season.
The locker room will also be home to new faces with three freshmen joining the team — outfielder Tyesha Williams, utility player Sydney Pecoraro and first-baseman and utility player Kennedy Ryman. 
"We're really excited about what they can do and showing them the ropes and letting them learn the way," Waters said.
BU was able to prepare for the season with an eight-game fall schedule. Teams they faced included Merrimack, Boston College, Maine, Harvard and others. The team was able to practice with double-headers and the free substitution rule, which allowed for every player to get an opportunity to hit the diamond, according to Waters.
The road ahead for the Terriers includes a difficult schedule with matchups against at least one team from the Power Five conferences, a two-game set against 2021 Women's College World Series participant University of Georgia and 17 games against teams with a top-100 Rating Percentage Index. 
The team's season will get underway at the Green and Gold Classic in Charlotte, North Carolina against the University of Notre Dame on Feb. 11 at 12:30 pm. 
BU will then travel to compete in the Red and Black Showcase in Athens, Georgia from Feb. 18-20, the Clemson Classic in Clemson, South Carolina from Feb. 25-27, the San Diego Classic in San Diego, California from March 4-6 and the Louisville Slugger Tournament in Long Beach, California from March 10-12. 
Finally, the Terriers will play their home opener against Merrimack on March 22.
When asked what are the strengths of this year's team, Waters put it simply — "personality."
"They definitely have this love and support for each other and that's something that's really special," she said. "When you have 19 kids who are celebrating one another's success, that's a fire that can be ignited and cashed in."