Emily Lyons is just like many other students at Boston University. They go to class, hang out with friends, and enjoy the charms of campus life — but there's one exception.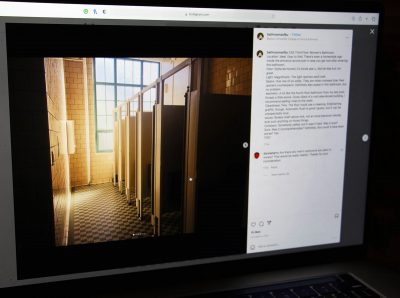 When they're not, they're taking photos of bathrooms around BU.
"I run 'bathroomsofbu' on Instagram. And so I review bathrooms, that's what I do," Lyons said.
A senior in the College of Communication, Lyons is the bathroom expert behind the "bathroomsofbu" Instagram account — a satirical page that posts cheeky, detailed assessments of bathrooms on campus. And until now, this information has remained largely a secret.
"It's not often I hear people talking about it, but when I do it's kind of fun," Lyons said of their anonymity. "I don't really want to be the center of attention, but if it comes up all I'll talk about it."
They started the account their freshman year in fall 2018 while at the Pickering Educational Resource Library where their roommate worked, Lyons said. It was Pickering's basement bathroom that caught Lyon's attention.
Lyons said they recall the bathroom "being weirdly laid out," and thought reviewing the bathroom — as a food critic reviews a meal or a book critic does a novel — would be an amusing, comic undertaking.
"It'd be kind of funny because we're all hanging out in bathrooms, whether we want to talk about it or not," Lyons said. "We all have these experiences, might as well talk about them."
The Instagram account, which has reviewed over 60 bathrooms, has been a subsite of BU's satirical news publication, The Bunion, since 2018. Although they were "apprehensive" about being under the umbrella of The Bunion at first, Lyons said they've enjoyed their experience.
"If I hadn't been part of The Bunion, I might have not kept it up, or I might have not had the amount of engagement that I do, not as much followers," they said.
Now, after four years at BU, Lyons is set to graduate in May. But it's not just BU they are leaving behind — they will also be phasing out as sole creative director of "bathroomsofbu."
"Now, I feel like we're like a TV show that's been on for a long time," Lyons said. "It's still getting viewers, you know, I see new followers every couple of days and I'm happy about it. But slower output. It's a nice feeling, but I am sad to say goodbye eventually."
Lyons now passes the torch to a new director, who chose to remain anonymous while speaking to The Daily Free Press to respect the page's legacy.
"It really helps, because it just gives the account its own identity," the new director said. "Anonymity is important to kind of keep the joke going, and to make 'bathroomsofbu' just 'bathroomsofbu' in itself."
Although they are excited to take over the account, the new director said they will miss Lyons and their creative direction.
"You will always be laughing when you're around them," the new director said. "I'm going to miss how they can take a simple photo of a sink or a toilet, and make it super funny and make a story."
The new director also said "bathroomsofbu" has influence beyond humor.
"Bringing these ideas, starting a bathroom account, is really bringing a sense of calmness to campus, especially when everyone has mental health crises coming back to campus, or with finals," they said. "Stuff like this can take your mind off of things like that."
Keith Habarta, a junior in the College of Arts and Sciences, said the account has been much more than a social media outlet — it was a tool to help face his fears.
"I was with this group that had very big bathroom issues, and not like bowel issues, but it was all fear of going to the bathroom," Habarta said. "We saw that this person consistently found amazing bathrooms, gave pretty good recommendations, it was something that we would try and venture to."
Although they never set out to help people conquer their fears, Lyons said they are glad that by reviewing bathrooms, they are brightening people's days.
"I never seriously thought it would help people, and I'm still skeptical," Lyons said. "I only was really, in a parody kind of sense, like, the hero that no one asked for."