America is on the path to a sports gambling problem. Bettors placed an estimated $7.6 billion on the Super Bowl last week, up from $4.3 billion last year. 
Part of that big jump is due to states like New York legalizing sports betting, and those numbers are likely to increase in the coming years. 30 states have live, legal sports betting. Three states have legalized sports betting that is not yet operational. Eight states have active or pre-filed legislation/ballot measures in 2022 that could legalize sports betting in those states. 
California, America's richest state, is one of those eight states. A gambling boom there feels imminent, or at least inevitable. 
The steep increase in wagers did not occur with hordes of gamblers, cash-in-fist, rushing betting windows. Instead, much of the gambling happened on smartphones. Users simply downloaded their app of choice – DraftKings, Caesars or FanDuel – and watched the money flow.
The possibilities on these apps are limitless – over/unders, daily fantasy, moneylines, single-game parlays or multi-game parlays. You name it. They've got it. 
The exact score parlay frightens me the most. A FanDuel sportsbook bettor turned $20 from a free site credit into $579,000 by picking the correct score of the AFC and NFC championship games. The incredible wager captured headlines on social media and major news outlets.
However, I worry about such wagers becoming the new lottery ticket, rather than an innocuous, fun bet.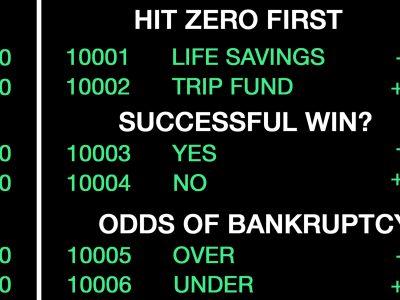 In a country where the gap between upper-income families and lower-income families is widening, those in economic despair might feel as if they are a parlay away from poverty.
Americans should also be wary of stacking addiction on top of addiction. The average US adult already spends over three hours per day on their phone. Adding an easy way to gamble on top of that could mean addiction squared for some users. I see very little value in allowing this. 
But now, I must make a disclaimer. While I was in Iowa – where sports betting is legal – I placed wagers on mobile gambling apps over Christmas break. I bet primarily on the NFL playoffs. I also have an active wager on a sports betting app right now – the Golden State Warriors +550 to win the 2022 NBA championship. Perhaps you think this makes me a hypocrite, but I would argue the contrary. 
My attraction to sports betting apps is why those apps are a bad idea. Gambling does not give you the same negative physical feedback as hard drugs. The struggle to fight a gambling addiction is invisible and mental, making it all the harder to prevent. And when people can gamble using a smartphone – wherein almost every shiny app feels gamelike – the prospect of addiction looms.
I have a solution that allows for a middle ground. Gambling should be done, if at all, on special occasions or vacations. Furthermore, I will provide a real-life example of how people should bet on sports.
I went to Las Vegas with my brother for my 21st birthday, and while I was there, I did some sports betting. I bet on the Miami Dolphins (-3) to cover the spread against the New Orleans Saints on Monday Night Football. I made this bet because, like every good Minnesota Vikings fan, I still hate the Saints for cheating against the Vikings in the 2009 NFC Championship Game. 
I vividly remember walking to the betting window at Caesar's Palace with my ID and $20 bill in hand. I told the clerk I wanted $20 on the Dolphins -3.
"Are you sure?" the clerk asked as he smiled at me.
"Yes," I said, nodding with the smile of an idiot who knows nothing about betting football. 
The cordial gentleman handed me a betting slip, and I was on my way. 
A few hours later, after watching the Dolphins defense suffocate some quarterback named Ian Book and win 20-3, I swaggered my way to the betting window, waving my slip around like a golden ticket.
I handed the man my slip, and he gave me back $37. Later, I put $50 on the Kansas City Chiefs to win the Super Bowl but felt no more urges to wager. I was spent on sports gambling for the trip.
That is how all sports betting should be — a few fun, insignificant wagers made on vacation. If you win, great. If you lose, oh well. 
The general zombification of the populace will only increase with more mobile sports betting. And with smartphones, nobody needs to go to a betting window anymore to place a wager. 
The opium den is now portable. All you need to do is take the bright-colored screen out of your pocket for one last hit.