After fouling out near the end of Boston University's matchup with Colgate University, junior forward Maren Durant's stride as she walked back to the bench was representative of her team's frustration and exhaustion. 
BU was on the cusp of losing to a team it had defeated by a wide margin less than a month before.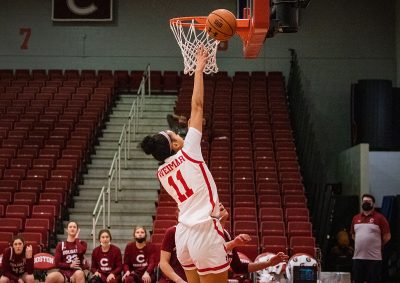 Colgate freshman guard Sophia Diehl hit one of her two shots at the free throw line, expanding her team's lead to three points, yet still giving the Terriers a chance to tie the game. 
With just under 15 seconds left in the game, BU freshman guard Alex Giannaros sprinted down the court with the crowd and Terrier bench on its feet. But Giannaros' final shot failed to connect, cementing a frustrating afternoon for BU.
When the final buzzer sounded, Colgate (6-20, 4-11 Patriot League) celebrated a 64-61 win on the Case Gym hardwood while the Terriers (15-11, 11-4 PL) made a hasty exit toward the locker room. 
"We just weren't moving the ball as well as we did last game," head coach Melissa Graves said postgame. "When we move the ball and share the basketball, we look phenomenal and it's beautiful basketball."
In BU's previous game, a matchup with the College of the Holy Cross, the Terriers dished 21 assists and won the game by 18 points. In Saturday's loss, BU only recorded 12 assists. 
In a game with 20 lead changes from start to finish, Graves praised the Raiders' effort on both sides of the ball. 
"They came out and they were ready to go and they were confident the whole rest of the game," Graves said. 
Leading up to this game, Graves wanted to focus on what the team could have improved upon in their 59-45 win against Colgate on Jan. 29.
"We really tried to focus on what we wanted to fix last time we played them, and it was a lot on the defensive end," Graves said. "I thought we looked pretty good in practice but we didn't show it today." 
Although BU has held opponents to an average of just 29.8% 3-point shooting on the season, the Terriers allowed the Raiders to shoot 42.1% from long-range. Meanwhile, the Terriers hit just 2-15 from behind the 3-point line on the offensive end.
"We didn't make them uncomfortable at all," Graves said. 
Saturday's matchup also honored the late coach Kay Yow, former head coach of the University of North Carolina State's women's basketball team. Yow led the US women's national basketball team to a gold medal and was inducted into the Naismith Basketball Hall of Fame before she passed away from Breast Cancer in 2009. 
Prior to the game against Colgate, Graves talked to her team about Yow and her many accomplishments. 
"It brought a little bit of a deeper significance to what we do," Graves said. 
Graves noted that everyone on her team, either directly or indirectly, has been affected by cancer in some way. 
"It's bigger than basketball," Graves said. "This game was bigger than keeping our spot in the league standings, it was bigger than us."  
The Terriers will travel to face Lafayette on Wednesday, Feb. 23 at 6 p.m. with the hopes of securing their 16th win of the season.