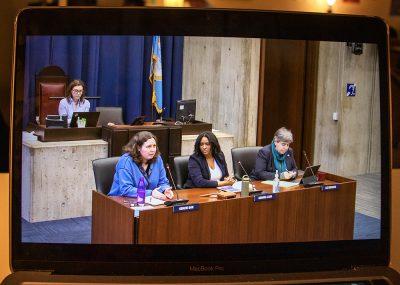 Boston city councilors held a hearing Tuesday to discuss the progress of a city-wide Conservation Corps that would help environmental efforts.
Modeled after one of Franklin D. Roosevelt's most successful New Deal programs in 1930, PowerCorps Boston is a proposed city-wide program designed to train and hire young Bostonians for public works, concentrating on environment preservation.
District 8 City Councilor Kenzie Bok — one of the sponsors of the program in 2021 with now-Mayor Michelle Wu — said Boston is not moving fast enough in the "Climate Action Plan," which includes managing green stormwater, upgrading existing buildings to net zero standards and preparing for sea-level rise.
"There's a lot of need for capital improvements related to the climate crisis around the city," Bok said in the interview. "Both the work of putting those in and maintaining them has to be done by people."
The Boston Water and Sewer Commission has been involved in initiatives to aid environmental efforts, director of communications Thomas Bagely said. 
Bagley said the harbors and rivers of Boston have made a "remarkable comeback" in recent years.
"We work with customers and partners to reduce pollution for safer, cleaner waterways, so we will build somewhat of a legacy for the future, for our children, that we are able to enjoy for many years to come," Bagley said. 
Bok said she led the passage of $4 million for a pilot program in June 2021 which will start training 30 individuals to work on public green infrastructure this year. 
"In the long run, what we want is a pipeline where we've helped to build these growing industries into industries that are going to help us achieve racial economic justice by having good paid jobs that our Boston residents, PowerCorps graduates are the first in line for," Bok said.
Inspired by the PowerCorpsPHL in Philadelphia, Boston announced PowerCorps Boston in Oct. 2021 through interdepartmental partnerships — including the Office of Workforce Development, the Boston Centers for Youth & Families and the Department of Youth Engagement and Employment — according to the hearing order.
Jeremy Kazanjian-Amory, senior manager of engagement and outreach for the Department of Youth Engagement and Employment, said the department provides young people the skills necessary to succeed in the Conservation Corps workforce.
"One of the hopes for the program is that it serves as a model for opportunities for these pathway programs that allow for young adults who are interested in beginning a career in the green jobs sector, which we know is an ever-growing workforce sector," Kazanjian-Amory said.
PowerCorpsPHL will help Boston's program with technical aspects, Director of Technical Assistance Daniel Lawson said, from strategy development to shadowing opportunities in Philadelphia.
"Something that our organization and our staff is really excited to do is translate the work that we do here to another city and try to coach someone else on how to do it," Lawson said.
City Councilor At-Large Ruthzee Louijeune said learning from PowerCorpsPHL's program model showed what's possible for Boston.
"[We need to make sure] that we're addressing these issues in an intersectional way and really marrying climate justice with racial justice and making sure that, front and center, the folks getting these jobs are the folks in our neighborhoods," Louijeune said at the hearing.