The Academy Awards took a surprising turn on Sunday evening when Will Smith struck comedian Chris Rock after he joked about Smith's wife, Jada Pinkett Smith, and her shaved head. This crazy turn of events has been the impetus for a questioning of who was in the wrong — calling on topics like toxic masculinity and associating Black males with violence. This slap heard around the world calls for another cultural debate. 
The big moment all started when Rock was presenting an award. While on the Oscars' stage, the comedian threw around some jokes, one of them being, "Jada I love you. G.I. Jane 2, can't wait to see it," referring to Jada's shaved head. At first, Will Smith laughed at this, while Jada rolled her eyes. 
What happened next, everybody knows. Smith walked onto the stage, slapped Rock and returned back to his seat. Twice Smith yelled at Rock, "Keep my wife's name out of your f*cking mouth." Rock obeyed, laughed off the awkward tension and presented the award he was supposed to. 
The one thing most can agree on is that the moment was disheartening to watch. Rock made a tasteless joke about a woman who has alopecia, a condition resulting in hair loss, and in defense of his wife, Smith used violence to display his loyalty. Both men are in the wrong and should be held accountable for their actions.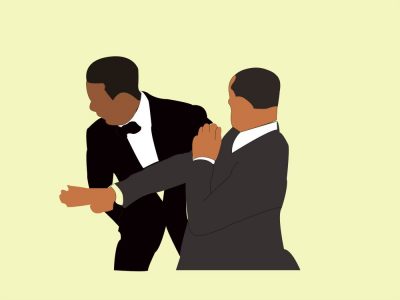 But as with any publicized event, there has been a great deal of debate. Actress and comedian Tiffany Haddish defended Smith's actions, saying, "The slap was the most beautiful thing I have seen, because it made me believe that there are still men out there that love and care about their women, their wives." On the other hand, director Judd Apatow condemned the slap — "That's pure out-of-control rage and violence. They've [Will and Jada] heard a million jokes about them in the last three decades. They are not freshmen in the world of Hollywood and comedy. He lost his mind."
The fierce defenders of Smith's actions are essentially saying what Haddish said. He was defending his wife against a crass joke. This is when race enters the conversation. After a week of trials for Judge Ketanji Brown Jackson, President Joe Biden's Supreme Court pick who was confirmed by the Senate Thursday, the idea of a Black woman being defended and supported is wonderful. 
The country as a whole has not stood up for Black women. Using this to see the benefits of the slap is completely valid. Black women are rarely highlighted within the emancipation movement and civil rights movement. The Black Lives Matter movement was started by Black women, and we still focus on the men. "Missing white woman syndrome," the emphasis in media coverage on the deaths of white women, still curses America while missing Black women are publicly left out of the equation. I could go on.
Overall, Black women have been illustrated in society as unworthy of defending, and that needs to change. But Smith's slap was not an act of valor for Black women around the world. It was an unnecessary act of aggression. 
A comedian should have the ability to poke fun at people and target celebrities, but it's only right for someone to have the ability to respond and react if they are the target. 
However, there is a right way and a wrong way to react to things, and Smith reacted wrongly. Smith assaulted Rock and then casually strolled back to his seat as if nothing happened. He got a pass because he is an A-list celebrity who never messes up. But physically hitting someone doesn't deserve praise. 
In his Oscar acceptance speech, Smith took the time to apologize to the Academy and explain his actions in an indirect way, while also framing his words to reconstruct his violent act of "protection" as an act of love.
This is a blatant form of toxic masculinity. Domestic violence offenders use this phrase as a form of defense, claiming they hit their partners out of "love." Smith is a charismatic man who doesn't get into much trouble publicly, so for someone viewed as a hero by so many boys, saying something like that can make others think brutal acts are okay.
It doesn't help that Smith got an applause and standing ovation by his peers in the audience. Smith stood up, interrupted a whole show, assaulted a man over a joke, went back to his seat, swore at him, got coddled by his Hollywood friends, won an award, made a speech and got applauded after being asked to leave by the Academy. That's celebrity privilege. 
No one comes close to being the victor in this situation, but Rock deserves credit for de-escalating the situation and for his professionalism. Rock decided not to press charges, and hasn't bad-mouthed Smith to the media, while Smith took to social media to apologize to Rock and has since resigned from the Academy. 
The truth is, this incident is now a part of not only Oscar history, but cultural history. If Smith hadn't walked up onto the stage and slapped Rock but, rather, had made a mature reference to Rocks' joke regarding the stigma around alopecia, then Smith's speech would have been perfect, and he wouldn't have immortalized Rock's joke.