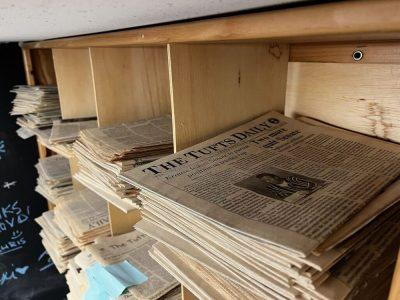 A Somerville orthodontist and landlord who sued the editors of The Tufts Daily for libel entered into an agreement on April 1 to have the case dismissed.  
Emily Thompson and Alexander Janoff — the deputy news editor and the editor-in-chief of the independent student-run newspaper of Tufts University — were sued by Mouhab Rizkallah on March 9 following an article Thompson wrote about 20 tenants protesting Rizkallah's decision to sue a tenant for unpaid rent. 
The complaint originally alleged Thompson's article in The Tufts Daily contained inaccurate statements and damaged Rizkallah's reputation. Before the agreement to dismiss the case, Rizkallah's suit demanded $50,000 for "emotional distress damages."
"I thought that, in almost 30 years of practice, it was one of the most frivolous defamation cases I had seen," Evan Fray-Witzer, attorney for the defense, wrote in an emailed statement. 
The attorney for the plaintiff Emilie Grossman did not respond to a request for comment.
Rizkallah claimed that Thompson quoted him "inaccurately" when she wrote that he said none of the demonstrators present were his tenants. In his complaint, Rizkallah argued that "only one" of the protesters was his tenants and claimed that Thompson "deliberately and falsely suggested" he was lying.
In an emailed statement, Rizkallah maintained the article contained inaccuracies.  
"Unfortunately, the two people in question wrote a misleading article that caused harm to me and my dedicated staff," Rizkallah wrote. "Whether students or journalists in a paid position, they have a responsibility to report the truth, and I held them accountable for a short time." 
However, Fray-Witzer and Janoff maintained the article was correct and the lawsuit was more of a "bullying tactic."
"There wasn't any error to the initial article, we didn't issue a correction so it remains as published originally on February 11 on our website today," Janoff said. "We haven't modified the article at all because there was no need." 
After the article in question was published, Rizkallah began sending emails to Janoff and Thompson and requested that a correction be issued. 
"He threatened to sue us several times, at which point we started reaching out to the Student Press Law Center," Janoff said.
Janoff and Thompson eventually retained Fray-Witzer, a panel attorney at the Student Press Law Center. 
"I really believed that it would have been an easy case to defend because The Tufts Daily reporters really brought the receipts," Fray-Witzer wrote. "We were about to file a motion to dismiss the case when the plaintiff agreed to dismiss it outright." 
Janoff said he and Thompson were prepared to fight the lawsuit and felt "competent" in their writing from beginning to end.
"Knowing that we did nothing wrong, knowing that the case has been dismissed, it didn't really change any of my strategy," Janoff said. "I'm not going to be pushed around by someone who just doesn't like the way something's written. If it's correct, it can be published."
Fray-Witzer stated despite the case being dismissed, Thompson and Janoff's stance sets its own kind of precedent.
"I can only hope that others will think twice about suing student journalists who are simply doing their jobs," Fray-Witzer wrote. "I think that, by standing up for their journalistic values, Emily and Alex sent a message that student journalists will not be bullied into silence."