Skateboards hung above the red fireplace, vinyl records covering nearly every inch of the room and a neon sign that says "all in good taste," this is GOOD TASTE Records — a new record store in Boston's North End. The store, which is co-owned by a husband and wife, aims to promote connections and community building through vinyl records.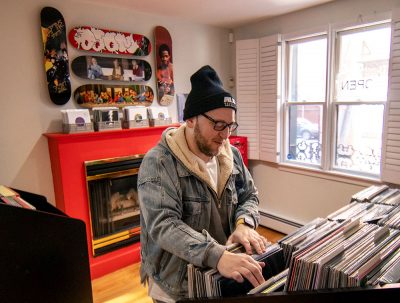 "We want to turn people on to good music … just having people pop in whether it be once a month, every day… sharing stories and getting to know people through their music taste," Lindsey Smith, co-owner of the business, said.
The store offers primarily vinyl records but also sells turntables, CDs, cassettes and cleaning supplies for record players, Coty Smith, co-owner of the business, said.
Before starting GOOD TASTE Records, Coty was a digital marketer for e-commerce companies, but he had been collecting vinyl for over 15 years. Vinyl is an extension of one's identity and personality, he said, and is something people can build connections from.
"There's a you know a reference point. Do you like Prince? Great, I do too … Before you know it you've made a friend," Coty said.
GOOD TASTE Records brings something "different" to the North End, Zach Grimes, a Gloucester resident, said.
"You don't really have a lot of stores in the North End or in this community that really showcases a lot of musical talents," he said. "It's really cool that they're trying to bring in this sort of musical aspect to the North End that is deeply rooted in different traditions."
First starting their business online during the pandemic, Coty said they brought GOOD TASTE Records to the North End for its close-knit community feel and neighborhood aspect.
"It's in the heartbeat of everything," Coty said. "To help with some of the cultural aspects, the artistic aspects, those are the things that we felt like we could also help contribute."
With International Record Store Day happening on April 23rd, the store is gearing up for its grand opening, he said.
"It's International Record Store Day which is our big industry event where it brings everybody together," Coty said. "It's basically a big party for the day."
Coty and Lindsey are also planning some of their "first in-store events and signings" as a way to further bring art, culture, music and connections to the community, he said.
"We have some artists who will be touring through to Boston on their own performance tour who we've been working with … that's going to be happening on May 13," Coty said.
GOOD TASTE Records not only collaborates with local musicians but also with its own customers through a custom sticker program called Slap of the Month. This program allows customers to design a sticker related to music, those that get selected will win a $50 gift card and have their stickers printed.
"We also want to be inclusive of our customer community," Coty said.
Placing their custom stickers around town was one of the main reasons how Jack Mitchell, a North End resident who is "super into" vinyl, discovered GOOD TASTE Records.
"I was like this is really sick," Mitchell said. "It's really cool because I live just right around the corner."
Another aspect GOOD TASTE Records focuses on is sustainability, which is a large part of their "ethos," Coty said. They have combined vinyl records and tree planting as a way to help reduce their carbon footprint.
"For every record we sell, online and in store, we plant mangrove trees in Madagascar," Coty said. "We're a little more than 1,300 trees planted."
Enhancing the experience of vinyl records over streaming services is also something that is important to the store, he said.
"It all comes down to quantity versus quality," said Coty, who said that the music streaming experience often turns into only background noise. "Vinylism is again something that you must invest your attention to, you must put it on, drop the needle, sit back and let it play from beginning to end, stop, flip, repeat."
Lindsey said with streaming services you skip around songs, but with vinyl records, you can experience the full album.
"With a record, you don't know the song but you have to listen to it so you can explore new music and your sound," Lindsey said.
Mitchell also said that vinyl records help him experience albums as a whole.
"And I can get more into the album as a piece of an entire work, like an entire piece of art, as opposed to just listening like song by song," Mitchell said.
After these last two years in the pandemic, Coty said GOOD TASTE Records offers an "aesthetic" in-store experience, allowing customers to shuffle through records and use their listening booths.
"That's something that you know could you go on Google, could you get on YouTube? … Sure, but it's not the full singular experience," Coty said.
In terms of advice for people who want to open a business, he said to "just do it," by staying curious and being passionate.
"[I] still don't feel like I know enough or know everything I need to do it the right way, whatever the right way is," Coty said. "But I'm curious to figure out what I do need to figure out."