Following the strike-down of the nationwide transportation mask mandate Monday and the MBTA's decision to allow riders to go maskless, Boston University will continue to require mask-wearing on its BU Shuttle buses, according to University representatives.
"There are no plans to update the BU masking policies on the shuttle and in healthcare facilities and in classrooms at this time," Rachel Lapal Cavallario, BU's associate vice president of public relations, wrote in an email.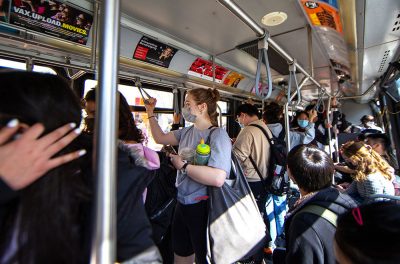 A federal judge in Florida nixed the federal transportation mask mandate Monday, leaving the decision to enforce mask wearing up to individual states and private organizations. 
The move was later criticized by legal experts and refuted by the Center for Disease Control — which had previously extended the mandate through May 3. On Wednesday, the U.S. Justice Department announced it had filed a notice of appeal.
The day before, Massachusetts state officials announced masks would no longer be required in MBTA vehicles or at Logan Airport. 
All students interviewed for this story said they would continue to wear masks on the BU Shuttle even if the University removed its mask mandate. 
"It's safer that way," Kylee Nguyen, a junior in the College of Communication, said.
However, students' opinions differed when asked when they believe the mask mandate should be removed on buses. Nguyen said the University should revisit its policy after a noticeable decline in case-counts and hospitalization rates.
"If a lot of people are still getting COVID and very bad side effects, symptoms, all that, then it shouldn't be lifted," Nguyen said.
BU reported 81 cases of COVID-19 and a positivity rate of 3.12% Tuesday. Case counts have been increasing since mid-March, partly due to the rise of the BA.2 variant — which Platt told The Daily Free Press accounted for 80% of the University's reported cases last week.
On Tuesday, there were 373 patients hospitalized for COVID-19 in Mass., approximately 20% of the day's reported cases.
On the other hand, Samantha Garwood, a senior in the College of Arts and Sciences, said the University should wait until the end of the semester to revisit its bus policy.
"By next semester, everything should probably go back to normal," she said.