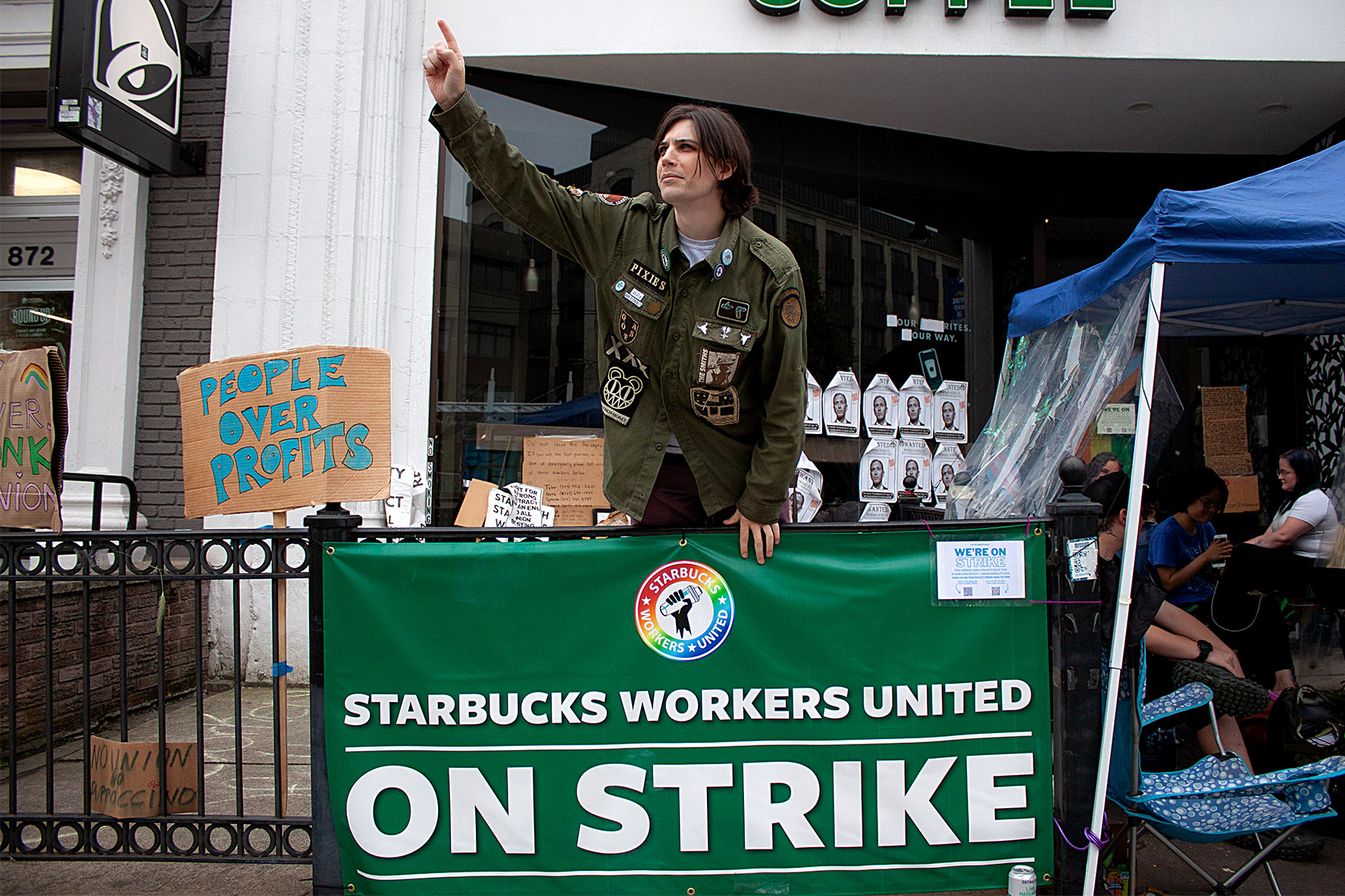 On Boston University's West Campus, a tent stands over lawn chairs and protest signs outside of 874 Commonwealth Avenue — the site of the longest strike in Starbucks history, which has been maintaining an indefinite 24/7 picket line since July 18, nearly 60 days.
Employee Taylor Dickerson said the influx of students moving back to BU for the upcoming school year has re-energized the movement in the face of burnout.
"To have these fresh faces here, it's been kind of a nice reminder of why we're here," said Dickerson, who is also a recent college graduate. "I think it's been such a source of hope for us because it gets really exhausting."
Starbucks has remained steadfast in its reluctance to negotiate working conditions. The unionized employees of the Brookline Starbucks, who have garnered the attention of the major news outlets nationwide and scored support from politicians Elizabeth Warren and Bernie Sanders, are protesting the company's alleged attempt at illegal union-busting in June.
Workers claimed that a new temporary store manager used discriminatory rhetoric, "made illegal threats of discipline or termination," and "aggressively cut hours," according to a statement from Boston Starbucks Workers United.
Dickerson said the employees are trying to write a letter to management with signatures from BU students.
"We are on their campus. They're such a big part of our customer base," Dickerson said. "Look how closing this down and refusing to negotiate with these people is affecting the community. I'm sure BU students aren't super happy that they can't go grab a cup of coffee before class."
Dhruv Kapadia, student body president and junior in CAS, said that Starbucks location is "integral to [BU's] campus." Kapadia said his executive board ran on a platform with progressive values and that they stand with working class communities.
"That Starbucks specifically employs a lot of students and employs a lot of lower income residents in the greater Boston area," Kapadia said. "We took it as our responsibility, especially because of the location of that Starbucks being integral to our campus … to speak up and show some solidarity with local progressive activists."
Shift manager Spencer Costigan, who led the motion to unionize, said at this stage in the strike, students have become a crucial part of manning the picket line.
The spike in interest in the strike from BU students, Costigan said, has created an opportunity for education surrounding labor rights and the history behind unions.
"Every day I have like 10 more BU students who see what we're doing and want to sign up," Costigan said. "We have so many people coming up to us saying, 'I saw this on Tik Tok, or I saw this on Twitter, or I heard about this from my friend.'"
Nzna Nguyen, a freshman in the College of Arts and Sciences, said she has been frequenting the strike to show solidarity with the workers between classes and in her free time since she became aware of the strike while moving in.
"In many ways, the labor movement is rising up once more," Nguyen said. "Workers have realized just how much leverage they have, and how vital they are in spite of people believing that they're absolutely replaceable."
Nguyen said there have been several negative interactions with passersby, although most of her experiences on the picket line have been positive. Most recently, she said, someone spit on the patio next to the picket line and told the protestors they were a "waste of space."
Alex Brumfield, the director of social advocacy for BU Student Government and a junior in CAS, said he came across the strike over the summer and brought the cause to StuGov cabinet's attention, which unanimously agreed to support the cause.
The StuGov's Instagram graphic about the cause has received over 800 likes, the second highest number of likes in the account's history, said Brumfield.
Although this Starbucks location is not affiliated with BU like the Warren Towers and Questrom locations are, Brumfield said, it is still a part of the BU community.
Costigan said union activity gives people the opportunity to change lives.
"No matter what field you're going into, join a union," they said. "It's a chance to be a part of a moment in history, and it's a history that is extremely, extremely important."