Living in Boston offers endless potential for adventures and discovering new sites on foot. Behind every adventure of mine, there's a meticulously crafted playlist. Here are ten songs that have recently fueled my adventurous curiosity. 
1."Reborn" by Kids See Ghosts 
Released in 2018, Kid Cudi and Kanye West teamed up to create a power duo and produce an album. Unfortunately, the group disbanded in 2022, and all we have to remember about their collaboration is the single album. 
2. "Too Tired" by KALI 
KALI — an incredibly talented budding artist in New Zealand — is releasing hit-worthy music at the early age of seventeen. "Too Tired" was released on an EP, "Circles" in 2021, when she was sixteen. With a similar voice and style to Clairo, she offers a refreshing sound to people who enjoy the sound of indie-pop feminine artists. 
3. "Scar Tissue" by Red Hot Chili Peppers 
As a typical Gen Z teen, this song allows me to reminisce about my childhood. When I close my eyes, I'm transported to the back seat of my mom's Subaru Outback in the early 2000s. I'm grateful for music that can take me back to simpler times without responsibilities. Walking down Commonwealth Avenue, it's nice to remember my past as an encouragement to continue to make my inner child proud. 
4. "Post Modern Fade" by Cottonwood Firing Squad
Released in 2017 on the album "27 Club," this song offers the mellow, feel-good indie rock that I love. For me, it's impossible to be in an unpleasant mood when this song is in my earbuds. When walking around the city, I need to have relaxing, optimistic music to soothe my road rage when cars don't give pedestrians the right of way.
5. "Don't Worry Baby" by The Beach Boys 
Gifting multiple generations with carefree, surf-rock music, I felt it necessary to add "Don't Worry Baby" to this playlist. Appealing to teens beginning in the early 60s, the Beach Boys played a significant role in popularizing and influencing the current music that I love today. When I listen to the Beach Boys, I'm transported back in time to a warm-tropical beach and my worries melt away. 
6. "What Is Love? Tell Me, Is It Easy?" by Hala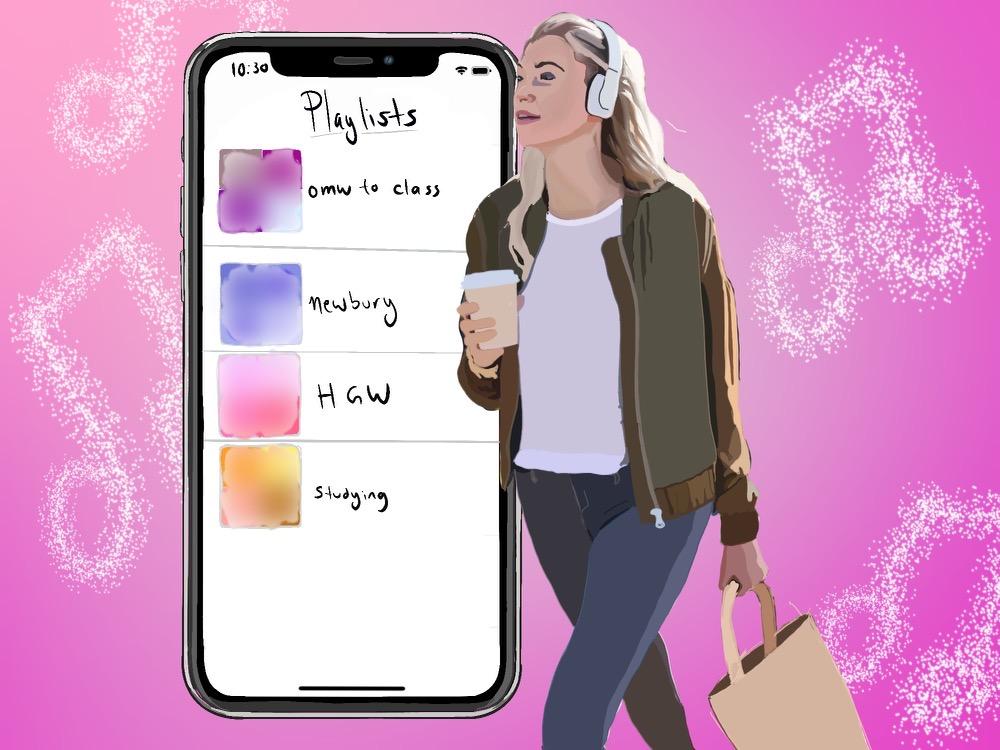 More current than the Beach Boys, Hala's most popular song was released in 2016, with almost 21 million streams.  Operating under the band name Hala, Ian Ruhala revealed that his muse for his music style is 70s rock in an interview with WTBU radio. Offering the same breezy, untroubled music that I gravitate towards, Hala is a must for a stress-free, adventure playlist. 
7. "T Love" by Quarters of Change 
As an up-and-coming alternative rock band, this band is nothing new to New York natives that are into the local indie scene. The group started during high school, and they've been making groupies swoon ever since. The band has been productive in 2022, with eighteen songs released this year. 
8. "All These Things That I've Done" by The Killers 
Stepping onto the music scene in 2001, The Killers are celebrated in dingy fraternity basements for the song, "Mr. Brightside." However, I can assure you that The Killers offer so much more than the overplayed song. My favorite song is "All These Things That I've Done," which was released on the same album as the aforementioned single — destined to live in its shadow. The Killers were a force to be reckoned with in the early 2000s, and although their most beloved song appealed to almost every type of music lover, they offer so many wonderful songs that are comparable to "Mr. Brightside."
9. "Do You Think We'll Last Forever?" by Caroline Rose 
Caroline Rose began their career as a folk artist. Since then, their music has evolved into indie pop. One of my favorite songs, along with "Soul No. 5," is as upbeat as it is satirical. Rose told Under the Radar Magazine that the song is about the "anxiety that comes with the excitement of a potential love."  Throughout the humorous song, it reminds me of my anxiety and how bizarre I may seem to other people when I trap myself in my own head. My favorite line from the song is, "I'm alright, it's just a heart attack." I felt as if Caroline was calling me out for being dramatic. 
10. "Da Ya Think I'm Sexy?" by Rod Stewart 
This ultimate guilty-pleasure song is on all of my workout and walking playlists. The silly nature of the song always boosts my serotonin. It reminds me not to take myself too seriously. It also proves that music can be about absolutely anything. 
Although my adventure playlists don't have an ounce of organization, they all have sentimental value — whether they're from my childhood or current songs that remind me to stay positive. These adventurous songs remind me of where I've been, and the places I hope to go.