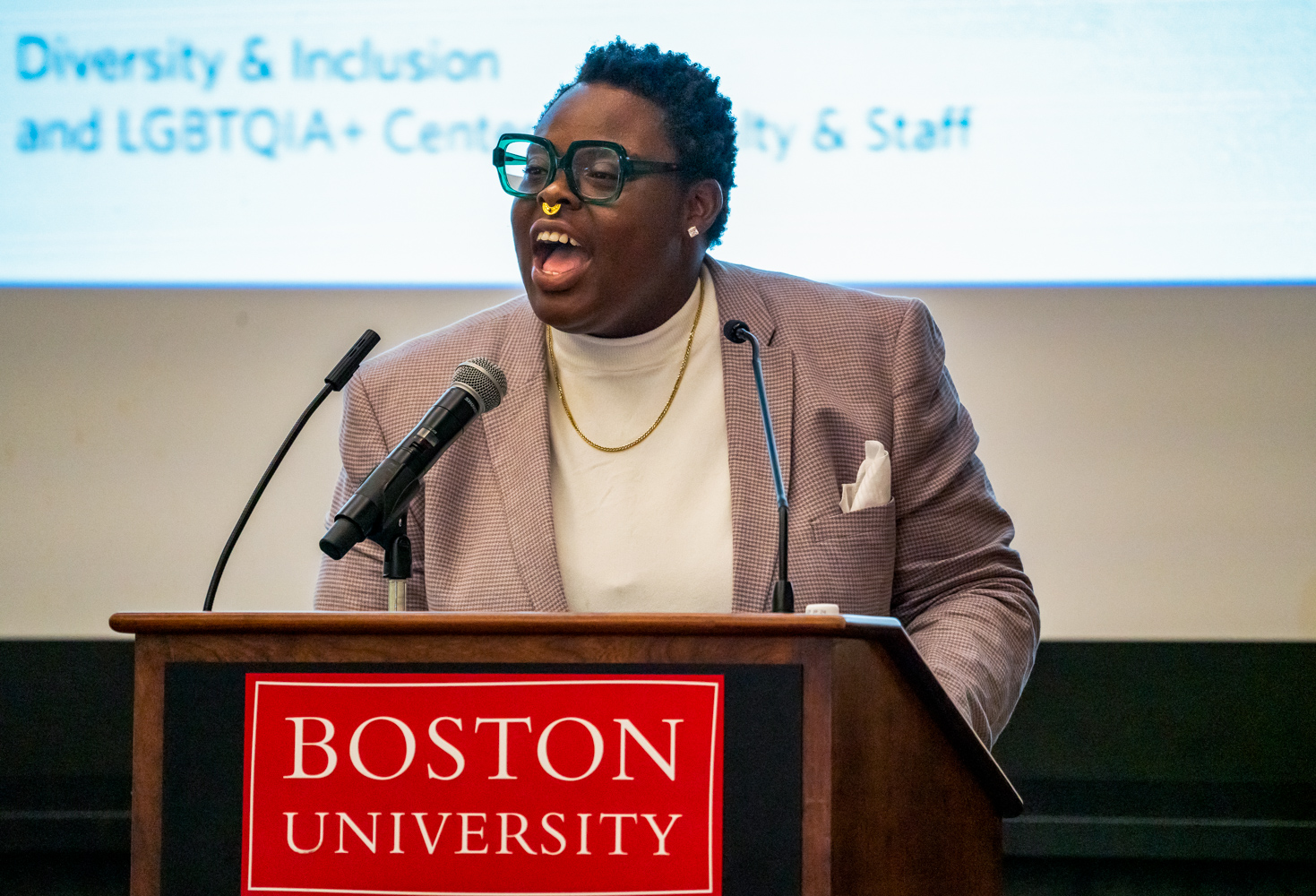 Boston's poet laureate Porsha Olayiwola — appointed the four-year term by the City of Boston in 2019 — came to Boston University's George Sherman Union Ballroom for a poetry reading Sept. 22, spotlighting the unique experiences of queer Black people.
"I think about what it means for us to constantly be writing the worlds that we want to see, the stories we want to see … shaping the future," Olayiwola said during the event's question and answer portion. "We move through [a] world that is born out of imagination."
She read a collection of her poems, answered questions during a Q&A and signed copies of her debut poem collection "i shimmer sometimes, too" as a part of "There Will Be Queer People in the Future," the first event in BU Diversity and Inclusion's "Learn More" series.
Allison Reilly, assistant director of the LGBTQIA+ Center for Faculty and Staff, said having Olayiwola kick off this year's "Learn More" series was "magical."
"She really helps remind us that queer people have existed, do exist, and will always exist," Reilly said.
Francie Latour, director of educational programming initiatives for BU D&I, said part of working at a predominantly white institution involves having to reckon with its history.
"In order to disrupt the habits, the practices, the structures, the policies, that have perpetuated historical exclusion, we first need to educate," Latour said. "One of the most powerful ways that we can educate is by centering the voices and experiences and identities of those who have been historically excluded for so long."
Latour said that Olayiwola's presence as a keynote speaker is challenging and "powerful in that regard."
"She's really forcefully and gloriously pushing back against heteronormative culture and white culture simultaneously, which has for so long felt entitled to tell stories that it has absolutely no business telling," Latour said.
Anne Joseph, a sophomore in the College of Arts and Science, said she was glad she skipped a lecture that day to hear Olayiwola speak.
"Internalizing the phrase, 'you exist in the future,' it's something that I really haven't heard often throughout my education and throughout what I've been exposed to," Joseph said. "I think it's really powerful just to reflect on that."
Chloe Salomon, a sophomore in College of Arts and Science, said she enjoyed hearing the creativity expressed in Olayiwola's writing.
"It was really interesting … especially talking about how Black and Brown people have started a movement revolutionizing, protesting … that really paid it forward for other marginalized groups," Salomon said.
During her talk, Olayiwola also said rest is important when working for radical social change.
"It's natural to feel obligated to continue to do the work and to always do the work because it's true, like, 'who's going to do it?'" Olayiwola said. "But the reality is … somebody is going to pick that up and you deserve rest."
Reilly said the hope for the "Learn More" series is to provide the BU community the tools to contextualize and understand the issues that are faced by marginalized communities, including queer communities.
"We hope that the events will spark deep and meaningful conversations around queer identities," Reilly said, "and ideally spark more community and connection among the audiences that show up."
Olayiwola said books have shifted the way people interact with and think about others.
"That, for me, is the necessity in poetry is that by writing, somebody else might be able to see themselves and to see me," Olayiwola said. "Ideally, the poem just lifts off the page and sparks conversation."