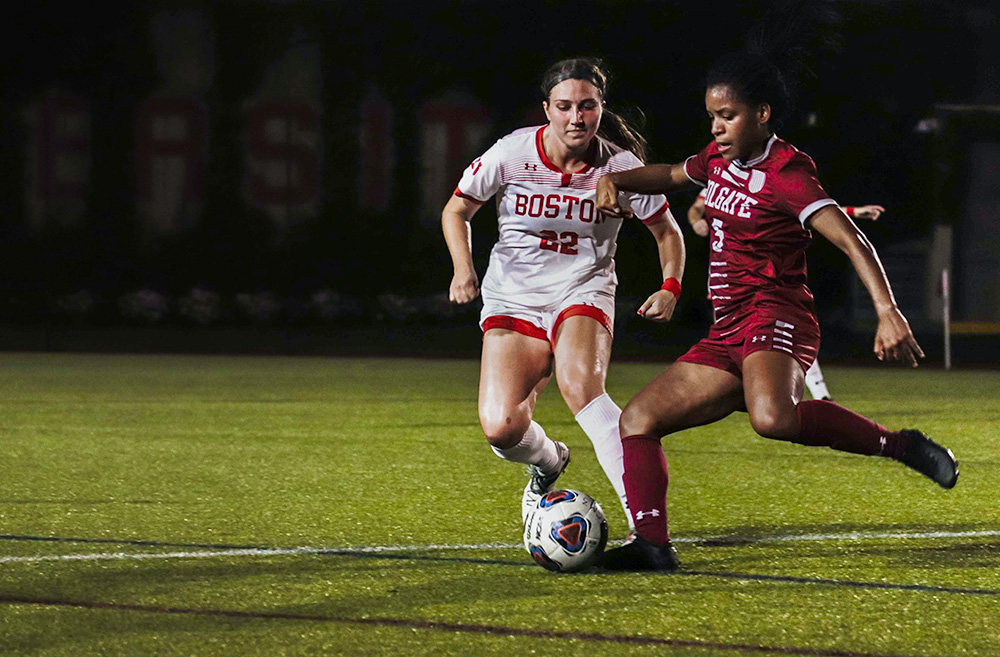 The Boston University women's soccer team lost 1-0 to Colgate University in Hamilton, New York on Wednesday despite having large chunks of possession throughout the majority of the game.
The Terriers (4-6-0 overall, 1-1-0 PL) struggled to create clear cut chances offensively and were not able to break down the Raiders' (1-6-2 overall, 1-1-0 PL) defense.
"I'm really proud of the team and how we played," BU head coach Casey Brown said. "Unfortunately on the limited chances we provided them they were able to get one [goal] on a half-chance."
BU started the game brightly, with early half-chances from junior forward Abigail McNulty and sophomore forward Morgan Fagan. However, with a corner awarded in the ninth minute, redshirt senior forward Jenna Oldham whipped in a great cross to senior midfielder Sophia Woodland, but Woodland couldn't keep the free header down as the ball flew over the crossbar.
BU continued to dominate possession for large parts of the first half, but Colgate were able to create a few chances of their own. In the 28th minute, Colgate strung a few passes together and BU sophomore goalkeeper Celia Braun made a terrific diving save to deny the Raiders the opening goal. This was a warning sign from Colgate, as even though they were being outplayed by the Terriers, they still posed a threat.
With just two minutes left in the half, senior forward Marli Rajacich hit a powerful shot from the edge of the box that cannoned off the Colgate crossbar.
"Obviously disappointed to not come away with something, a point or three," Brown said. "I really like the performance, but obviously not fully satisfied."
Coming out of halftime, the Terriers continued to control much of the possession. However, their inability to convert in front of goal finally came back to haunt them in the 59th minute as Colgate senior midfielder Emily Amano fired an unstoppable strike into the top right corner of BU's net, giving the Raiders a 1-0 lead.
"It was unfortunate to put ourselves in a hole like that, … but that's how our game goes sometimes," Brown said.
BU continued to push on after going a goal down. In the 75th minute, Woodland rounded the Colgate goalkeeper only to see her shot cleared off the goalline by a Colgate defender.
Despite struggles in attack, Brown remains optimistic her team has what it takes to take the next step in converting the chances they create.
"It's having that last conviction piece," Brown said. "We're right there, so I feel very confident, very positive about what we're doing. Just continuing to feel clinical in those moments and feeling confident … when we do create."
BU will look to respond at home on Saturday at 1 p.m. against the United States Naval Academy.