Ned Fulmer, Keith Habersberger, Zach Kornfield, and Eugene Lee Yang made up The Try Guys — a Youtube channel dedicated to trying everything and anything. The four accumulated eight million subscribers between 2014 to 2022 — and then Fulmer cheated on his wife. 
On Sept. 25, news broke that Fulmer, who was widely known as the "family man" of the group, cheated on his wife Ariel with Try Guys associate producer, Alex Herring. Twitter exploded with comments from the crew's massive fanbase, with "Try Guys" and "Ned Fulmer" trending for the majority of the day. 
By Sept. 27, The Try Guys official twitter posted a statement confirming that Fulmer would no longer be working for the company. 
This accelerated chain of events might come across as rash. SNL's coverage of the incident, with their Try Guys explanation video parody skit, sought to convey the opinions some held for the incident, pointing out the fact that getting fired for cheating isn't exactly a fair punishment.  
The sketch personifies the thoughts of concerned adulterers everywhere: does cheating on my wife qualify me for public exile? 
In the case of Fulmer and every person who chose an employee for their sordid affair, the answer is yes.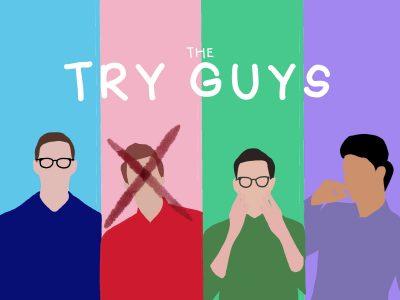 Fulmer's cheating scandal extended beyond betrayal, as the power dynamic between Fulmer and Herring further complicated matters. 
In Fulmer's apology post, he claimed he "…lost focus and had a consensual workplace relationship." However, consent between a boss and their employee is murky. Worries of being fired, a hostile work environment or possible retaliation make it nearly impossible for consent to be fairly given. If nothing else, Fulmer's affair constituted a concern for human resources, immediately validating his termination. 
This was also the case for Celtics coach Ime Udoka, who was suspended for the 2022-23 season after having an affair with a female subordinate. This scandal also yielded controversy as Udoka was seemingly leading the team to the championships. 
Beyond this, The Try Guys, while known for their presentation as a fun friend group who casually participate in experiments, are a brand and a business at heart. 
The Try Guys has a family-friendly image to keep up, which would be disparaged by allowing a cheater in the ranks. Not only this, but Fulmer's affair made it impossible for him to play his part in the group. Fulmer was known as the "wife guy." His Instagram bio even currently reads "Comedian and #1 NYT Bestseller (aka @arielmfulmer's Husband)."
Much of his role in the group along with his side projects — which featured a home improvement show called "Try D.I.Y" and a podcast called "Baby Steps," both co-ran with his wife —was fully dependent on his marriage. 
By making his wife his personality, Fulmer's actions betrayed not only the missus, but the public. How can fans trust you when you've suddenly slid backsies on your claim to fame? 
This was also the case for John Mulaney, a stand-up comedian known for consistently referring to his loving wife in jokes. When it was revealed Mulaney asked for a divorce and was almost immediately spotted dating Olivia Munn — and subsequently having a baby with her — fans found it hard to continue to give him their support. 
His wife Anna Marie Tendler gained a substantial following on Tik Tok of presumably ex-Mulaney fans who'd decided to recycle their endorsements. 
Keeping Fulmer employed when his wife and family was integral to his branding, and therefore that of the group's, wasn't an option. Even with Fulmer out of the picture, the dilemma continues to affect the business. 
Fulmer's scandal has negatively affected The Try Guys' new Food Network program "No Recipe Road Trip," which moved from airing on Wednesday nights to Fridays at 10 a.m. — a possible inclination that the network plans to scrap the show all together. 
Gone are the days of workplace romances swept under the rug by misogynists seeking to keep their records clean and their houses unbroken. In 2022, cheaters face consequences. 
No, it is not a crime to cheat on your wife, but the Fulmer debacle should act as a warning for potential-adulterers everywhere. If  "my wife is my life" is not just a sweet saying but a business model — cheating is one thing that guy shouldn't try. 
This editorial was written by Opinion Editor Lydia Evans.