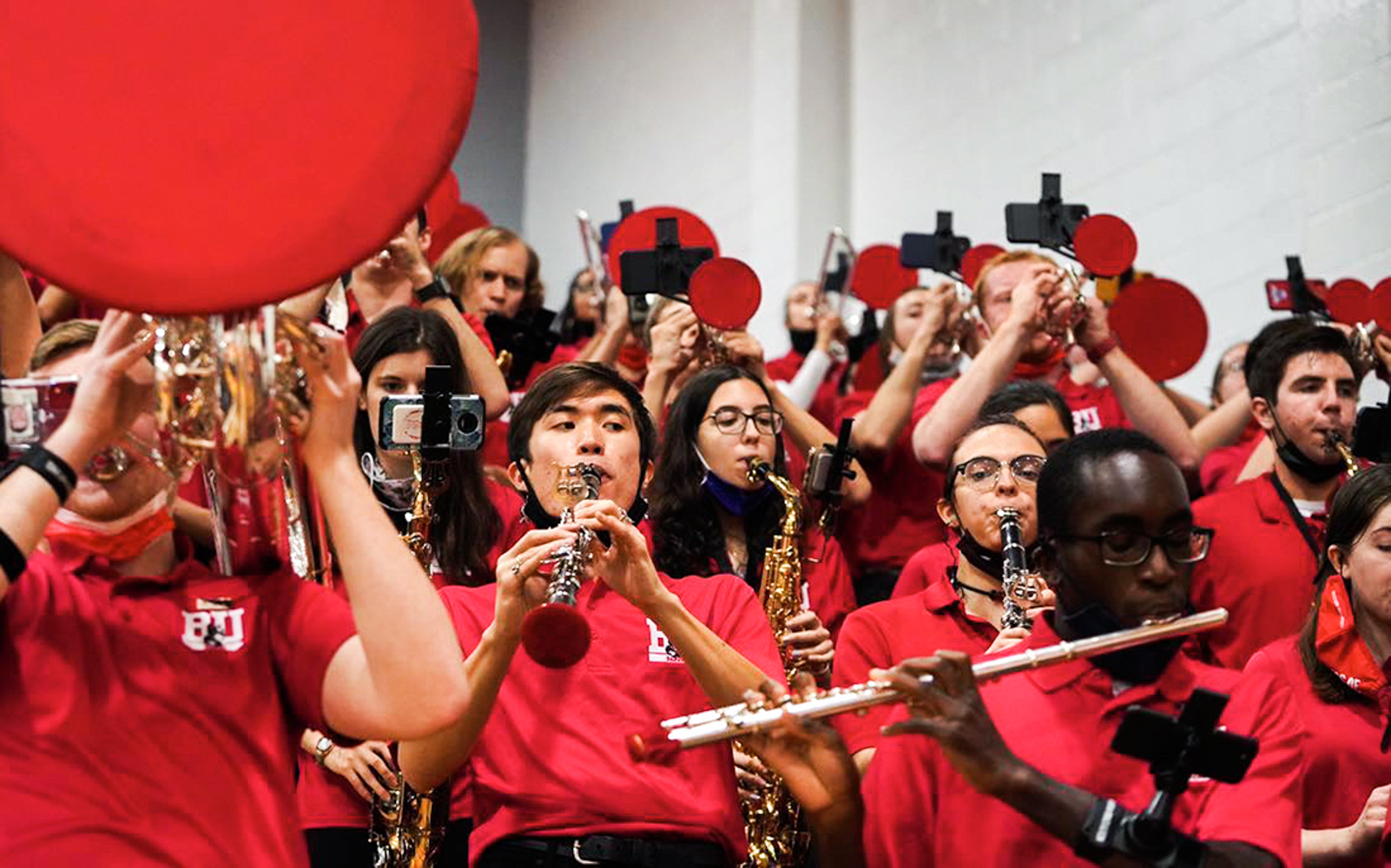 "I'm part of the history now."
That is how Katie McCabe, a senior in the College of Arts and Sciences and the trumpet section leader of the Marching Band and Pep Band, sums up her emotions as she prepares to perform in what Director of the Athletic Bands Aaron Goldberg called the "BU Band's event of the century."
The Boston University Band program is hosting its Centennial Celebration this weekend. The schedule for the weekend will include various performances by the athletic, concert and jazz bands and opportunities for families, alumni, community members and current students to come together in celebration of BU Band's history.
"Some of it is just what we do every year, but we just have people flying in from all over the world to check it out," Goldberg said.
In addition to the alumni returning to watch the performances, Goldberg said band members who graduated with the BU classes of 2020 and 2021 are being invited "back to put the uniform on one last time and play with their band."
Bonnie Chen, a sophomore in CAS and flute section leader in the Marching Band and Pep Band, said participating in Centennial Weekend is a "once in a lifetime experience."
"I'm really happy and I'm really honored to be performing for all the people who've been in band, seeing this program grow," Chen said.
Goldberg said that the performances during Centennial Weekend, particularly the Marching Band's performance, look to celebrate the "resilience and perseverance" of the BU Bands.
He said the final song in the set will be "From Now On" from the 2016 film "The Greatest Showman," during which the band will stop playing their instruments for a segment to sing the lyrics "we will come back home, home again."
"We're shining the spotlight on our alumni coming back to what was their home when they were here," Goldberg said. "The fact that they still feel strongly enough about the band to carve out time in their lives to come back and see what we're doing these days…that's very special for us."
Michael Barsano, the Director of University Ensembles, said BU band focuses on "creating community."
"As our students aren't music majors, this is something they do because they want to and they love music and love making music with their friends," Barsano said, "and that, to me, is pretty much what the event is all about."
McCabe said the band is a "very tight knit community."
"It is just something that people want to be a part of because the community is just so rewarding," McCabe said. "We really are, it is kind of cliché, but like band family."
McCabe said she's looking forward to the weekend and "performing for ourselves."
"We get to show off a little bit," McCabe said. "A lot of the times we can be in a bit of a supporting role in terms of where we're performing. This is specifically a celebration of everything that the band program, on its own, has been through and has done."
Goldberg said he hopes the weekend will be a "party for the ages."
"What this weekend means to me is a chance for anybody who's going to see any of this to recognize the real special thing that we've got going on here in the BU bands program," Goldberg said. "It is going to be a concentrated weekend of all-out music and energy and school spirit."